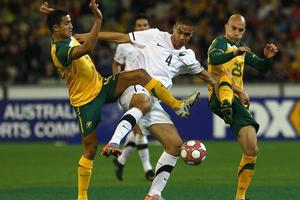 The Socceroos snuck a last-gasp winner at the MCG last night to prevail 2-1 over a plucky Kiwi side that displayed another credible performance.
I was gutted with the result but there were a number of good things to come out of the game for coach Ricki Herbert.
I thought the All Whites were exceptional through the middle. Ryan Nelsen, Simon Elliott and Rory Fallon were standouts for me.
Herbert has devised a game plan to suit his personnel and in Fallon he has a fantastic target man to lead the line. He showed great poise both in the air and on the ground and it was his deft touch with the head that gave Tim Brown the opening chance on 11 minutes. This was a hint of things to come with Chris Killen finding the back of the net shortly after.
The All Whites continued to shut out everything the Socceroos threw at them in the first half. They looked organised from top to bottom.
Herbert looks like he has settled on his preferred formation but the only question in my opinion is where does he slot Winston Reid?
We got a glimpse of Reid earlier than expected after his substitution for the injured Leo Bertos on 31 minutes. While he looked nervous initially, he showed why he's a marked man in Denmark with some nice touches and defensive awareness that saw him step in and intercept passes on more than one occasion.
Speaking of Bertos, the treatment dished out on him by Aussie veterans Vince Grella and Tim Cahill certainly has tongues wagging here in Australia.
Socceroos coach Pim Verbeek was disgusted with what he saw and would be thankful that American referee Ricardo Salazar left his red card back at the hotel. Grella should have seen red after a shocking two footed tackle on the All Whites midfielder. Everton's Tim Cahill also got in on the act a few minutes later and although his challenge warranted yellow, Bertos left the MCG on a stretcher.
The Socceroos looked uninterested at times and were clearly lacking the spark that superstars Cahill and Marco Bresciano were employed to do. The Kiwis had rattled their cage throughout the first half with confidence and discipline, knocking their Aussie opponents off their game.
The changes at halftime seemed to give the Socceroos some impetus and urgency. Their ball speed and work rate lifted and on 56 minutes Dario Vidosic pounced for his first goal in the green and gold.
With the teams looking like sharing the spoils, Brett Holman drifted past Andy Boyens to squeeze the ball under Paston from an acute angle in the 94th minute.
It was heartbreak for the valiant All Whites. A score draw would have been a worthy result but I know the team will be ruing the fact they didn't put Australia away.
The All Whites need to be able to grind out wins. A victory would have done wonders for team morale and confidence going into Sunday's game against Serbia. Nelsen and co know that these lapses in concentration are not good enough at this level and will be punished, as it was last night.
However, they can still take heart form their performance. The way they conceded so late in the game will be a certain focus point but the side now heads to Austria with a sound base to build from over the next two weeks.