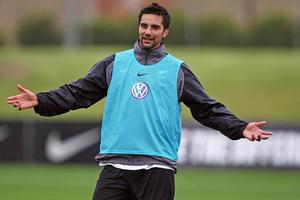 Tonight's clash against Australia may be classed as a friendly, judging by Rory Fallon's comments last week it will be anything but.
Anticipation for this match has been building since its announcement in February and Fallon raised a few eyebrows across the ditch with his 'no holding back' attitude towards the clash, alluding to a possible casualty list post 90 minutes.
The All Whites will definitely need that sort of commitment if they are to spoil Australia's farewell party and secure a result.
It's been five years since the two countries last met at senior level with Australia victors in the 2005 clash at Craven Cottage in England. I was at that game and witnessed the usual combative nature associated with all transtasman clashes. I'm expecting nothing less tonight.
And while getting things right for the World Cup is the main priority, a win against our neighbours in front of 90,000 screaming Aussies would be right up there with some of the great New Zealand victories.
Australian football has been in the spotlight of late with an air of debate surrounding the ageing legs that led the Socceroos to a fairytale tournament in Germany four years ago. Coach Pim Verbeek has also been under a personal attack about his selection policies from former Newcastle Jets striker Joel Griffiths, who was excluded from the initial squad.
Thinking of my past experiences playing the Socceroos, there are a few things that spring to mind if our boys are to triumph.
Organisation
Probably one of the All Whites' strengths of late. Much of this is to do with the presence of captain Ryan Nelsen and Ivan Vicelich. Both are very experienced and adapt to the kind of game required at international level. It will be interesting to see how Ricki Herbert will set them up. A 4-3-3 formation is the word.
Discipline
There will be times when the All Whites will go long periods without the ball. The Socceroos have some talented players capable of capitalising on any sloppy errors. Vince Grella, Marco Bresciano and Tim Cahill will punish anything given the chance. The All Whites have to match them pound for pound in the midfield, limit their space and employ a high tempo pressure game in certain areas. Although it's good to respect to your opponents, Herbert's men can't get caught with their heads in the clouds.
Ball retention
This is vitally important if the All Whites are to get quality ball from the midfield to the strikers. Without retaining the ball the All Whites will allow Australia to dictate the game and, eventually, fatigue will take its toll. The All Whites have capable players in Leo Bertos, Shane Smeltz and Michael McGlinchey and given time and space they can provide the catalyst for creating chances. The game is about taking opportunities when they arise and we have our best group of strikers since the 1982 quartet of Rufer, Turner, Woodin and McGarry to capitalise when they do.
Patience
The players can't get carried away with the occasion. Yes, this is the start of the most important four weeks in their footballing careers, but they must keep their heads and play smart football.
Frustration is one of the evil sins in football and once this sets in teams often implode. I'm confident the All Whites have enough wise heads in the squad to keep the testosterone and adrenalin at a moderate level and install calmness that enables quick, decisive decisions to be made.
I'm really looking forward to this battle royal at one of the greatest stadiums on the planet. I experienced my first AFL game there some twelve years ago - an Anzac day blockbuster between heavyweights Collingwood and Essendon who fought out a 111-all draw in front of 97,000 fans. I'll be there tonight amongst a near capacity crowd that should rival, if not exceed, the atmosphere on that day.
All fuel for the fire in a game that will be undoubtedly be far from a friendly.