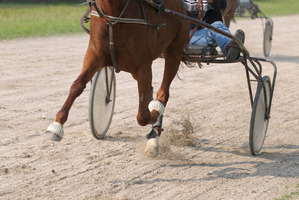 Harness racing's biggest day is being opened up to an Aussie invasion.
That sets up some glamour clashes at next year's Harness Jewels at Cambridge.
HRNZ has announced the $1.2 million meeting will have an Australian horse invited in each division to broaden the appeal and scope of the series.
The invite will be decided by an Australian panel by May 1 and, if accepted, the field for that division will increase to 13 starters, ensuring no New Zealand horse misses out because of the initiative.
Opening the door to Australia's elite is the natural next step for the Jewels and while the May 31 meeting is a long way off, it raises some mouth-watering possibilities.
The most obvious is the first clash between last season's champion fillies Adore Me and Frith, both of whom have been beaten only once.
Other Australian stars, like I'm Stately, Blitzthemcalder, Bling It On and Majestic Mach, would greatly boost interest in the meeting, as well as increasing the likelihood of them running in lead-up races at Alexandra Park.
They won't be the only Aussies targeting New Zealand riches, with three of their best all but guaranteed a start in this season's NZ Cup after the first ranking were released yesterday.
I'm Themightyquinn and Caribbean Blaster will get starts, while NSW pacer Suave Stuey Lombo is as good as in the November 12 field after being ranked 13th yesterday, with at least two horses ranked inside him unlikely starters.
Most of the early favourites are certain to get a start, with the most obvious exception being Besotted, who is ranked just 25th but can win his way in with an automatic invite at Addington tomorrow night.
Meanwhile, the in-form Steve Telfer-Chris Garlick stable should continue its hot form at Alexandra Park's rare Thursday night meeting tonight.
Cyamach won fresh-up for them last Friday but meets an even easier field in race eight tonight so looks a Pick6 anchor.
Stablemate Freespin and Secret Desire gives the team a two-pronged assault on the following race, although they meet a smart rival in Charge Forward, who has been trialling well.
The other highlight of the night will be comeback trotter Harry Johnson against classy acts Boizel and Charlemagne in the main trot.