Butt expects to win heat tonight and says that will make the bookies even more skittish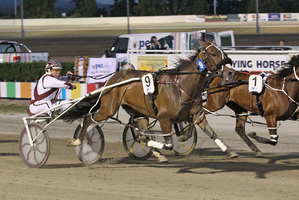 Anthony Butt has some bad news for the bookies heading into tonight's radically changed Interdominion heats.
And the champion Kiwi horseman hopes that news gets a lot worse come the A$750,000 final in Sydney on March 3.
Butt drives Mah Sish, who has been sensationally backed from $100 with some Australian bookies into $5.50 to win the Interdominion.
He has been one of the biggest movers in Inter history after arriving in Australia a bit player and then winning the Ballarat and Hunter Cups as well as running second in the Victoria Cup.
Tonight he contests the weakest of the five heats to be run over just two hours in four cities.
And Butt says victory tonight will earn him even more respect for the final and make the bookies sweat even more.
"He is spot on for this week and, to be honest, I expect to lead and win," said Butt matter-of-factly.
"In saying that, I'll have a plan B and C but I don't think I'll need them."
Mah Sish has blossomed as many other big names in the series have come across the problems often brought on by the rigours of Grand Circuit racing.
"He has gone ahead at the right time and I wouldn't want to be driving anything else for the final," said Butt.
The stunning two hours of Inter action kicks off with an intriguing heat at Alexandra Park which has only three starters but all are bona fide superstars.
While Terror To Love deserves favouritism he does face the prospect of settling third in a tactical race and it is easy to make a case for both Gold Ace and Sir Lincoln.
The race could come down to the battle for the lead and how fast the last 800m zings by, which is guaranteed to be lightning.
Talking of tactics, Lance Justice has signalled a radical change of his with $3.5 million pacer Smoken Up in tonight's heat at Melton.
The 10-year-old is the iron horse of pacing but has drawn the inside of the second line tonight and trainer-driver Justice says he may drive him with a sit. "He had a setback 10 days ago and is getting better all the time but I think this being a heat I have to approach it differently," said Justice.
"Sure, I want to win but the first job is to run in three and qualify for the final and I think sitting in the trail behind the likely leader I can do that.
"I have only trailed with him once before and that was when he ran third to Blacks A Fake in the Inter Final one year. I am not saying he can't win and tactics can always change but that is what I am thinking at the moment.
"And if we don't run in three I am pretty sure he will get the wild card invite."
That sort of talk will have punters flocking to Caribbean Blaster in the Melton heat, one of five run across four cities in two hours under the new Interdom format.
Tonight's Melton meeting also sees the return of champion trotter I Can Doosit after soreness issues.
He meets most of Australia's best trotters in the Cochrane Cup but is still a dominant favourite, while his stablemate Smolda takes on local star Restrepo in a qualifier for the Chariots Of Fire.

Plunge horse
*The rejigged Interdominions sees five heats crammed into two hours around Australasia tonight.
*That starts with an intriguing three-horse race at Alexandra Park.
*Mah Sish has been the plunge horse in the Interdom.
*Champion trotter I Can Doosit also returns at Melton tonight.