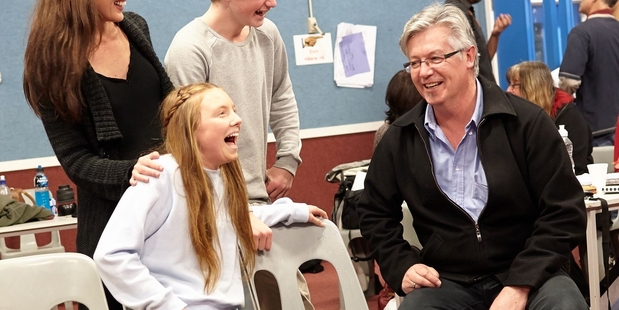 Hamilton's Bryan Bevege, 53, is set to wow crowds at the world premiere of New Zealand rock and blues opera musical State Highway 48 in Hamilton this month.
Bryan, a well-known name in the regional entertainment industry, has landed the male lead role in the locally written musical, which is on at Clarence St Theatre from July 10-12.
The musical, according to Bryan, is based on the at-times "turmultuous" journey of life at middle age.
"State Highway 48 is told through lyrics, melodies, and dance. It traces a typical middle-aged couple, their kids and their friends as they grapple with their daily lives, relationships and work.
"The story is geared around my character, Dave, and his wife, Sharon, who is played by local Waikato talent Kersten Hickman. Together Dave and Sharon grapple with the ups and downs in their marriage, emotional health, and family life."
And getting into character hasn't been overly difficult for Bryan, who can personally identify with some of his character's experiences.
"Relationship dissolvent and redundancy are both things that I, and many I know, have been through. It can be quite exhausting playing Dave's character because of the emotional rollercoaster he goes on. But that experience is real for a lot of people," he said. "Ultimately, one of the most defining things about this musical, is its relevance. It deals with very real issues that most middle-aged people, as well as other age groups, face. My character, Dave is bound to strike a chord with most men my age."
State Highway 48 was written by renowned Hamilton musician Chris Williams and directed by Hamilton's Nick Wilkinson, who was behind the successful production of Jesus Christ Superstar locally last year.
When it premieres, State Highway 48 will be one of the only musicals written by a New Zealander performed to such a large commercial extent.
And with a lifetime of experience in the music and entertainment industries, it's no wonder Bryan was selected as the star of the show.
"I began singing and playing the piano in Piopio before I started school, and haven't really stopped performing," he said.
"Growing up, my mum and aunty used to have a dance band together, so my cousins and I would play instruments alongside them. My cousins and I still play together across the Waikato region today."
But what started out as a bit of fun eventually became more professional.
"I ended up playing professionally, both in a band and solo, in New Plymouth for a few years - back when musos more commonly made a living from their talent," he said.
"When I came to Hamilton in 1985 I got quite heavily involved in musical theatre, and have remained so.
"I have appeared in concerts and shows throughout New Zealand and directed and musically directed shows in Auckland and Hamilton."
In 2003, a short film Bryan had a lead role in won two international film festivals. Next month Bryan is the musical director for the Hamilton Girls and Boys High production of Alice in Wonderland.
Working fulltime at Shearers Music Works in Hamilton and running vocal and performance workshops with his wife Lynn in his spare time, it's a wonder Bryan has any time to perform. But it's the challenge that appeals.
"At the moment we are practising five nights per week. My character is in all but about two scenes, so the past month and a half has been quite full-on; but I love it" he said.
"I have been involved in other locally written shows; but this one pushes the boundaries, musically, in a way that others haven't. I hope Chris can take State Highway 48 around New Zealand it's a worthwhile show to be spread," he said.
Tickets are available through www.sh48.co.nz or through Ticketek.