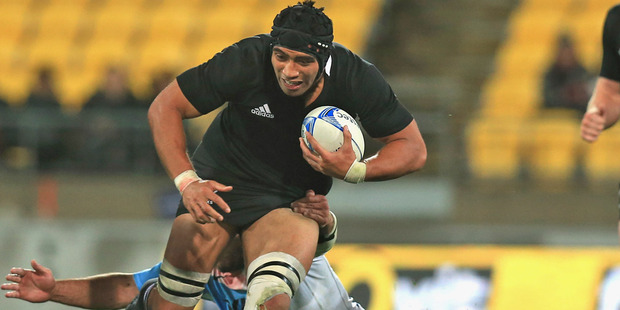 There is a memory of Victor Vito that is hard to shake and it involves him eating up the ground and destroying opponents with his pace and power at the Wellington Sevens in 2008.
He was magnificent - his natural athleticism a lethal weapon in the abbreviated game and in the months that followed, there was serious debate within Wellington Rugby as to whether the youngster was best suited to loose forward or wing in the 15-man version.
It was the former that won out - but maybe that wasn't the right choice. Against the Pumas there was just another reminder shortly before half-time that Vito in the open space, the ball tucked under his arm and his sights set for the line, is a thrilling sight.
Just as obvious, was that he's still not quite delivering as a blindside.
That's not say he never will, or he's that far off, but while he could become a good operator at test level on the side of the scrum, he could potentially become a much better wing.
Seriously, he has the pace, the hands, the raw power and in time he could learn the positioning, the angles and the micro skills.
The thought of him converting to the wing, genuinely excites. It might be a more natural home for him. There is no question that he has the overall package to play test rugby - that is beyond dispute. But, and this isn't something to be discouraged, his natural instincts seem to be to run for space and play the ball before contact, rather than run for bodies and play the ball after contact.
Back in the day, the old joke was that a coach would ask the team to run through a forest, those who avoided the trees played in the backs, those who didn't were in the forwards. Simple enough, yet the All Blacks are determined to convert Vito into a man who finds the trees, rather than capitalise on his already, well-honed instincts to avoid them.
Other loose forwards such as Rodney So'oialo, Jerome Kaino and Liam Messam all took some time to grow into their respective roles and deliver the relentlessly physicality required of loose forwards and the All Blacks will fancy Vito will be much the same: that his conversion from incredible athlete to commanding, intimidating, devastating blindside will be gradual if indeed it comes at all.
They have invested plenty of time in him and remain confident he'll become the player they want him to be. So maybe the compromise deal in project Vito is to turn him into a hybrid who is deemed capable of covering the loose trio and wing from the bench. Radike Samo can just about do that for the Wallabies but Vito could really do it for the All Blacks - allow them to reconfigure the make-up of their bench if the mood takes them.