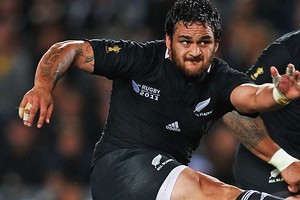 If the jury remains out on Colin Slade as the All Blacks starting first five, verdict was reached on halfback where Piri Weepu emerged as the creative director with the ability to steer this campaign all the way to shore.
Composed, aware and immaculate - Weepu is the new beating heart of this All Black World Cup effort. Dan Carter is gone but his spirit lives on in Weepu.
Nothing was too hard for Weepu.
Certainly not the goal-kicking where his rhythm and striking were a soothing sight; he never hurried, never gave any sense of the occasion being riddled with tension.
His kicking out of hand was equally comforting - long and accurate with plenty of variation. It takes vision to see that the attacking cross kick is on - nerve and poise to execute it the way he did on a couple of occasions.
What became unavoidable to conclude was that Weepu was effectively playing at first five but wearing No 9. He didn't physically position himself at first receiver - he played the role in the sense that the direction and control were both coming from him.
He was every bit as convincing as Dimitri Yachvili was for France on Saturday night; just as assured and confident in everything he did. Weepu played like he knew the responsibility to squeeze and move the Argentineans was his and it lifted the All Blacks.
His strength around the fringes, that ability of his to ride the first tackle, stay on his feet and play the ball to the next man was critical; it was those half seconds that bought the All Blacks the inches they needed to break the Pumas down.
And it will be those inches that need to be won again in seven days when the Wallabies come to Eden Park. It will be tougher again against the Australians with the job for Weepu made that bit harder by the pressure of knowing that lurking with intent will be Will Genia.
As creative directors go - Genia is probably the best number nine left in the competition.
To keep him subdued, chasing his tail all night Weepu is going to need help and it may have to come from Aaron Cruden.
Whether Colin Slade is able to recover from injury or not, Cruden may still be the man to throw into the mix. His 50 minute appearance was surprisingly good. He attacked the ball, was always willing to ask something of the Pumas' defence and he was fearless in the way he threw himself into contact.
There was even a touchline conversion and a raking clearance off his left boot to suggest that he's not the player he was this time last year when he came up short in a Bledisloe Cup clash in Sydney.
Maybe Weepu and Cruden is the combination to put up against Genia and Quade Cooper. Maybe a nation need not feel so gloomy about the absence of Carter.
In Weepu the All Blacks have a clever and talented operator and in Cruden they have an unknown quantity - a wildcard who may be riding late to the All Blacks' rescue.