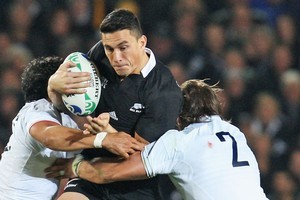 Presumably now with his hissy fit out the way and the All Blacks showing him the love again, Sonny Bill Williams will commit his future to New Zealand after the Rugby World Cup.
He really should. There are some reasonable arguments to made that he owes it to the fans and to his team-mates to hang around for at least another year. It could even be said he owes it to the executives who took a major risk in contracting him in 2010 when he hadn't actually shown an enormous amount on the rugby fields of south-west France.
But all of that is secondary. Williams should stay because he owes it to himself to see just how good he could be at this rugby malarkey.
He should think seriously about putting the boxing on hold and spending the next 12 months at least focusing on rugby and rugby alone. He could be spectacularly good if he really gives it a chance.
For all his raw talent and incredible athleticism, let's not forget he's a baby in terms of rugby experience. The nuances of the code are not in his blood. He grew up playing league and while that has conditioned him to contact sport; to passing under pressure; to maintaining defensive structures and all the other professional requirements that are common to both codes, it has not given him an innate understanding of rugby.
That is coming. He's been impossible to ignore at this World Cup - and not just for his impromptu striptease. His offloads have unlocked defences.
His tackling has been destructive and inspirational and when he has played on the wing he's induced genuine excitement; when he attacks the ball he's one of those players who transfixes everyone - the ball in one hand, his giant arms pumping...anything could happen.
And the fact that he's been playing on the wing is incredible in itself. Prior to the game against Japan, Williams had never played there in his life.
Would there be any other player in the squad, or world rugby for that matter, who could have slotted in on the wing without ever having played there and made such a favourable impression?
This boy has a gift but he needs to be gently coaxed into sharing it. If he scuttles back to league after this World Cup he'll regret it for the rest of his life. If he scuttles back to France to play club rugby he'll regret it for the rest of his life.
The All Blacks are as good as it gets and he just needs to be patient - accept that if he continues to learn and improve as quickly as he has, he'll soon be the star he wants/needs to be.
His career needs to be defined by great achievements but also by some sense of durability and perseverance. If he moves on every few years he'll never be considered a great of anything - he'll just appear petulant and flighty; not prepared to stick anything out because it was too hard.
Williams' work-rate and obvious energy on the field is proof he's picked up the toys and put them back in the pram after throwing them out when he missed the 22 to play Australia in Brisbane. That's one job out the way; the next is to sign a contract to play here in 2012.
- HERALD ON SUNDAY