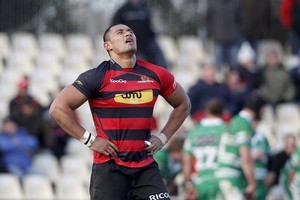 When Samoa came calling earlier this year, Robbie Fruean declined their invitation to play for them at the World Cup. His sights were set on what he sees as a bigger prize - playing for the All Blacks.
He's not crazy to believe he'll earn an All Black cap. When he's in full flight, he's frightening - nearly as scary as Jonah Lomu in his prime.
That destructive power tempted the All Blacks.The selectors watched him closely during Super 15 because they know the value of players who pose a threat with ball in hand. But when his game was put under the microscope, he was some way off where he needed to be.
A bit like Sione Lauaki, Fruean played in bursts. There would be an astonishing break and then 20 minutes of nothing. He didn't track back in defence with any urgency and his general work rate was poor.
His problem is now in the small world of New Zealand rugby where information is shared and everyone knows everyone, Fruean has a reputation. The current All Black coaching panel will be broken up next year but that won't necessarily help Fruean - once a player has a reputation, he has a reputation.
He'll forever be battling now to prove his faults have been eradicated. He'll also, in the short-to-medium term at least, be battling to make a side that contains two world class centres in Conrad Smith and Richard Kahui.
Smith is contracted to the end of next year and has previously said playing offshore holds little appeal for him.
His game has never been built on express pace or agility so, even though he's close to 30 now, there's no sense of him being close to the descent. Kahui is also keen on long service and if he can keep himself injury free, has the potential to be a good if not a great All Black.
Fruean may get lucky in the next year or so and win a call-up. But he has the look and feel of a player who will always be second choice - brought in to cover for injuries or to give the frontline troops a rest. The saddest part is that he could have made a massive difference for Samoa; adding another dimension to an already impressive backline.
Samoa's second five Seilala Mapusua is one of the most direct and pivotal No 12s in the world game. He draws defenders and gets the ball away similar to Sonny Bill Williams. Fruean could have been devastating running into big holes.
With Fruean and the 111kg Alesana Tuilagi on the wing, Samoa would have been even more terrifying striking off turnover ball. The inclusion of Fruean would have elevated Samoa from a potential Rugby World Cup quarter-finalist to a potential semifinalist.
His weaknesses would not be so exposed in the less structured Samoan game plan. They rely more on the impact of their one-on-one tackles rather than the system they employ.
Fruean can hit hard, he can run hard and there is something about the Samoan set-up that, when payers pop on the jersey, they find another level; an undiscovered aerobic reserve.
At 23, Fruean may be in his prime. Explosive athletes like him don't have a proven record of longevity. The impacts catch up early and he may never make it to a World Cup now.
He may have chosen to be a peripheral All Black with a few caps to his name ahead of being a major star with a Samoan team that is growing in stature. He may have just said no to potentially the greatest highlight of his career.