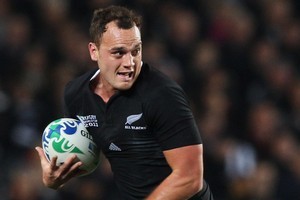 Given this All Black coaching panel's history, it is incongruous they won't consider playing Israel Dagg on the wing.
Richard Kahui is a centre for the Chiefs but is now suddenly a wing for the All Blacks at the Rugby World Cup; Isaia Toeava is a fullback or centre for the Blues who is now a wing for the All Blacks, while in the past we have seen regular fullback Mils Muliaina play at centre and several others operate in unfamiliar positions.
Playing men out of position has never previously been a road this panel has feared to tread. So why the reluctance to shift Dagg from fullback to wing?
The 23-year-old is the man of the moment; full of running, neat tricks and a touch of magic. He is an outrageous talent and has shown in his All Black appearances to date, most of which have been on the wing, that he has the temperament for test football.
The big stage is built for Dagg and this tournament should really be his time. If he's sitting in the stand he's hardly going to set things on fire and sadly, the prospect of him being a spectator is real.
The tournament will change dramatically in nature come the knock-out rounds; played late at night and inevitably with a wet ball and the tension almost crippling, the bombs will rain down.
Muliaina remains the best man for that type of rugby. His composure has defined his outstanding career and while he's been flat this season, Muliaina is not the kind of player you suddenly give up on; he's virtually error free, reads the game three phases ahead, is brave under the high ball and has a massively improved kicking game.
Accuracy will be the key - having players who can catch is more important than having players who can run which is why the selectors will be massively reluctant to discard Muliaina.
But Dagg has everything required to cope with the expected type of rugby opponents will play. The All Black selection template for wings is virtually identical to fullback and Dagg is brave, skilled and strong under the high ball, too. And while wing may not be his best position, he's still been hugely influential when he has played there in the past. Who could forget his solo try that sunk the Springboks in Wellington last year? Or his clincher in Soweto or the way he accelerated across the turf in Port Elizabeth a few weeks ago?
Ball in hand he makes things happen and if it came to a straight choice between him and Isaia Toeava to wear No 11, he would surely have a stronger case for inclusion?
But the selectors say they don't believe it is a choice between Dagg and Toeava. They say it is a choice between Dagg and Muliaina which is more than a little baffling.
A back three of Kahui, Dagg and Muliaina has all bases covered; there is power, pace, aerial excellence and clinical finishing. There is work rate, level heads and a touch of X-Factor.