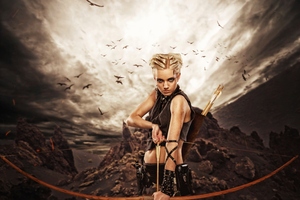 Entertainment: When it comes to funerals, the more elaborate and fanciful, the better the entertainment value for everyone else.
When my time comes I'd like my mortal remains to be placed in a small wooden dingy along with a substantial amount of kindling. As the boat is pushed forcefully out onto a lake an archer will then loose a fiery arrow at it, setting it alight and speeding me on my way.
No doubt this will involve a lot of palaver regarding resource consent, debate around the cultural issues, and most importantly finding someone who can actually shoot a burning arrow with a modicum of accuracy at a small, rapidly receding boat.
While this may seem fanciful to many, the notion of how, and where, we consign the dead, ("dispose of" doesn't seem the right phrase) is up for debate as the Law Commission releases proposals related to the funeral and cremation laws.
Some claim it will end up with Grandma being buried in the garden. I'm not sure why this upsets people, as it's a perfectly normal concept for many people, especially those from the Pacific. For many of them the idea that you bury a relative in a cemetery with a whole bunch of strangers is considered quite odd. Having said that, someone else's crypt is not exactly the lawn feature I'm looking for when I buy a house.
Much has been made of the housing crisis in Auckland, but there is also a striking shortage of land for those who no longer require houses. At Auckland's Waikumete Cemetery, New Zealand's largest, the grounds will be full by 2018. As the option of a second, shallower layer being added on top of the current residents is not appealing, it has been suggested that land on the fringe of the cemetery, currently a protected ecological area, be used as extra space. This is opposed by those who say it should be a space for the living, particularly those creatures currently living there.
Paris faced a similar space issue, and with its cemeteries literally overflowing, the skeletal remains of six million dead were re-interred in an old limestone mine. These Catacombs are now a first-rate tourist attraction, and you can wander through the cool, damp tunnels picking up the odd skull, to look deep into its eye sockets while thinking about the meaning of life and the surprising practicality of the French.
There are other options. In parts of Tibet and Mongolia they practice Sky Burial, where corpses are left high on mountain tops for animals and birds to devour. It's a great solution for a place where there is very little firewood, and digging a hole is ridiculously arduous.
While some people like the thought of being turned into a diamond, or having their ashes placed in fireworks, others might like to opt for Promession. Developed by a Swedish woman, it involves freezing the body in liquid nitrogen, vibrating the remains until they shatter, then vacuum drying them, and interring what's left in soil where bacteria reduces it to humus in a year. It's essentially glorified composting.
It's also the funeral vessel that could be more eco-sound. Most traditional coffins are constructed with plastics, metals, rare timber, lacquers, and then there's what's encased in them. The embalming fluid used to preserve the body doesn't do much to maintain the sanctity of the surrounding earth and groundwater in which the body is placed as it decomposes unnaturally over several years.
As for my Viking burial? Thanks to a handy website about such things I have discovered that if you are cremated first, and your ashes put in the boat and pushed off to be set alight, then that might just work. All I need is an archer. And a boat.