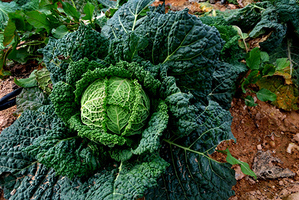 Gardening & DIY: The temperature has dropped and the thermals are on. Growth in the garden slows over this chilly time. On the positive side all those pesky bugs are being frozen to death! Isn't gardening such a compassionate pastime!
Ripe for the picking
Florence fennel, artichokes and celeriac are in season if you feel like trying something other than broccoli. All the root vegetables such as beetroot, carrots, parsnip and turnips are also in season. The new season apples will still be coming in as will the juicy easy peel mandarins which are just perfect for lunchboxes.
In the vegetable garden
In June it is difficult to get ecstatic about veggie gardening. Growth has probably come to a halt, the soil is wet and gluggy and it seems like you traipse it all into the house as it clings to your gumboots. To top it off, you fear that if you serve up another plate of broccoli, the children will stage their very own revolt .
The only suggestion I can offer is try and spruce up what is on offer. The stark reality is that these are the months that brassicas are the high achievers in the garden. Instead of your bog-standard brassicas why not try growing some different varieties. Here are some suggestions.
Purple sprouting broccoli - these little gems grow purple heads and masses of side shoots when the main head is harvested. Lightly steam or microwave to preserve their colour.
Broccolini or tender stems - this plant produces multiple tender side shoots with small florets. Snap off and eat the whole stem.
Broccoli Romanesco - Is it a broccoli or is it a cauliflower? Whatever it is, this Roman heirloom is almost too striking to eat. Its lime green head forms spiralling clusters of wonderful nutrition.
Orange cauliflower - a cauliflower which is the exact colour of cheddar cheese. See if you can pass it off for this with the kids.
Purple cauliflower - eat it raw in salads to preserve its beautiful colour.
Savoy cabbage - there is a reason why these crinkly leaves have been painted so extensively in art - they are beautiful. Steam the leaves and stuff them with meat or any other filling.
Red cabbage - Bright scarlet round balls growing in a garden really make an impact and that is even before you have tasted them.
Many garden centres stock these rarer varieties of brassicas. Failing that, have a hunt around in the seed sections or online.
Urban orchard
Ripe persimmons will be hanging off the tree like orange orbs. Persimmons are eaten fresh, dried, raw or cooked. Most fruit is best eaten when it is very soft and ripe as they are less astringent. The 'Fruyu' variety can be eaten when it is still firm. This tree is the perfect combination of productive and ornamental. It can suit many small backyards where it is sunny and well drained. Generally these trees will only grow to around 3-5 metres and it starts producing fruit at an early age. They are low maintenance and don't generally suffer from many diseases.
Herbs
Saffron - This herb has the reputation of being the most expensive spice in the world. It is the orange stamens of this crocus flower which are harvested. It takes 150 flowers to make 1 gram of dried saffron. The saffron crocus needs well-drained, rich soil in a sunny but sheltered location. Try growing some in a pot if space is restricted.
Anise - Anise is a summer annual herb. Sow seeds after the last frosts. Sow in full sun in well-drained, rich soil. It is a low, spreading, bright green bushy plant which produces small white umbrella-shaped flowers in the summer. Harvest the seeds in autumn. The cut leaves can also be used to flavour soups, stews and garden salads.
Rearing rabbits
Rabbits require a safe, secure and warm home to live in. All adult rabbits should have their own home. There are two main options of housing rabbits. You can build suspended wire pens with a wooden nest box on one end. This means cleaning is a breeze as all the droppings will fall through the mesh to the ground. The droppings can then be spread as fertilising pellets on the garden. The other popular option is to keep your bunnies on the lawn in moveable runs totally enclosed by wire. The rabbits can nibble on the grass and the run can be regularly moved to new ground. The main considerations are that any hutch is strong and secure and dog proof. It is also a good idea to use small gauge wire so that wild birds cannot enter the enclosure to steal grain. It needs to be warm and dry in winter and to provide shade in the summer heat.
Like what you see? For weekly Element news sign up to our newsletter.
We're also on facebook and Twitter.