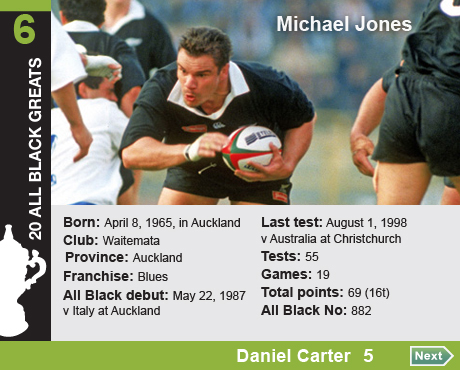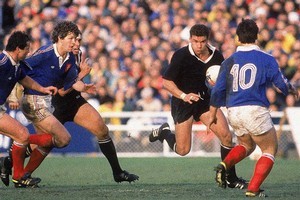 Fine flanker tackled like a demon, writes David Leggat
It was in Whangarei on the night of the final All Black trial for the 1987 World Cup. The squad has just been named live on national television, and several All Blacks were sought after by the media for a few thoughts on their selection.
The young Auckland flanker came into the room, took a seat but if you wanted to hear his thoughts you had to lean in close and listen hard. For Michael Jones was a shy, quietly spoken 22-year-old of whom great things had been forecast.
Pick your top 20 greatest All Blacks of all time.
The progression to the confident speaker - outspoken even, if the topic moves him that way - is substantial, rather like Jones' impact on All Black rugby for a decade from that year.
Jones was a revelation. Important minds took note when he scored a hat-trick on his Auckland representative debut against South Canterbury in 1986.
He'd played one test in Samoan blue that year but his talent was obvious and by the time that first All Black World Cup squad was named, everyone knew he'd be in, even though he had not played a test in black.
Jones' impact was immediate. He scored the first try in the tournament, one of 12 the All Blacks managed in their 70-6 rout of Italy at Eden Park and followed that up with the first in the final, part of the 29-9 win over France. Jones shone in an outstanding All Black team and until 1989 was perhaps the finest openside flanker the game had seen.
He had electric pace, tackled like a demon and seemed to have the knack of turning up in the right place and doing the right thing. With Allan Whetton and Wayne Shelford, they formed one of the great loose forward trios.
Jones missed the semifinal in that cup campaign against Wales in Brisbane because it was played on a Sunday. Jones was a non-starter for religious reasons. A player of lesser ability would not have won those concessions.
Not until the 1995 World Cup in South Africa, when coach Laurie Mains figured it was not worth having Jones there because of the abundance of Sunday games, did it count him out of tours.
But he also missed three games at the 1991 tournament, including, crucially, the semifinal against Australia in Dublin.
Whether his presence would have made a difference is a moot point. On balance the better side won that day.
Jones' rugby life changed in 1989 against Argentina in Wellington when he suffered a wretched knee injury. He was out for a year and when he returned the blistering pace of yore was gone.
His comeback was on the tour to France in 1990 and he kept the No 7 jersey for a time. After the occasional outing at No 8, he adjusted to the blindside role. His style became tight and he played his last 16 tests in the No 6 jersey to strong effect.
Jones was there when South Africa were defeated by the All Blacks in a test series on their own soil for the first time in 1996, and when the inaugural Tri-Nations title was secured that year.
Injuries began to take their toll and his test career ended in 1998 when he was dropped midway through the Tri-Nations.
Not the way a champion should go but Jones will always rate among the greatest of All Blacks.
A humble man, Jones was often quizzed on his crunching tackling. He invariably kept his answer Biblical: "It is better to give than to receive."
Pick your top 20 greatest All Blacks of all time.
Next Monday nzherald.co.nz will compare our experts' list with the public's.