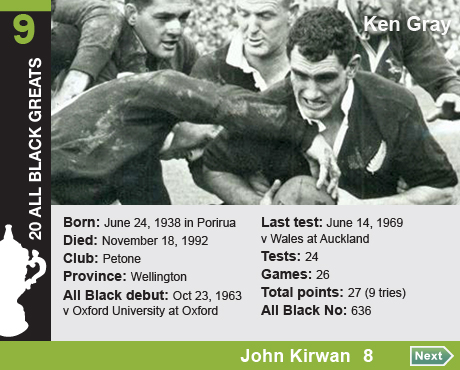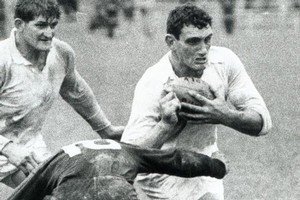 Ken Gray gave even Colin Meads a run for his money in their era, writes David Leggat.
The greatest All Black? Simple. Colin Meads, right?
It is a general assumption that the King Country farmer was the finest of all men in black.
But there are those of his generation who reckon Ken Gray's ability and contribution meant he gave the legendary "Piney" a run for his money over the period they were the rocks of the All Black pack.
"He was the equal, at least, of Meads," former All Black back Grahame Thorne said. "He was the best forward I ever played with."
Pick your top 20 greatest All Blacks of all time.
Meads is invariably held up as the epitome of the ruggedly powerful, irresistibly dominant All Black footballer.
But whenever Gray's name is mentioned, contemporaries talk with a degree of reverence of an immensely powerful, uncompromising prop, who departed the game in curious circumstances.
Gray, even at 31, would have been a cornerstone in the All Blacks' campaign to win in South Africa for the first time in 1970.
But the stench of the apartheid regime was becoming ever more rancid and Gray opted not to tour in protest at the political situation in the republic.
The selectors tried repeatedly to persuade him to change his mind. He didn't, and that was the end of a great career, which had begun on the tour of Britain, Ireland and France in 1963-64.
The Wellingtonian, who never made the First XV at Wellington College, played his early serious rugby as a lock before moving one row forward in 1961.
His debut came at Dublin against Ireland in 1963 and the only tests he missed until 1969 were through injury.
He played 24 tests, missing four only in 1967-1968.
Standing 1.87m and weighing around 101kg, Gray combined formidable strength with superb technique.
Those qualities, combined with a reputation as a player against whom it was unwise to take liberties, helped ensure "Hoodeyes" was bested by no opponent.
As the All Blacks steamrolled their way through one of their greatest periods - 1965-1969 - Gray was a key player.
With hooker Bruce McLeod and fellow prop Jack Hazlett, he anchored the scrum in an unchanging eight through the four tests against the Lions of 1966.
Gray was surprisingly mobile and, as teammate Waka Nathan recalled, "as a No 2 in the lineout there wasn't anyone else up to his standard in the country".
But it was more than that.
"His handling and short bursts were spot on and he never stepped back," Nathan said.
"He and Pinetree were two of the toughest guys around at the time."
During his time in the All Blacks, other props came and went - Sir Wilson Whineray, his first captain, Barry Thomas, Hazlett, Alistair Hopkinson, Brian Muller - and Gray swapped sides as needed.
At representative level, Gray led Wellington to wins over South Africa and the Lions in successive years, but twice was in charge of unsuccessful Ranfurly Shield challenges, a source of deep personal regret.
After his rugby days, Gray became prominent in local body politics in the Hutt Valley and Porirua and had been confirmed as the Labour candidate for Western Hutt in the 1993 national election. In 1992 he died suddenly of a heart attack.
"A great forward," wrote T.P. McLean. "Durable, vigorous, relentless, pursuing and supremely intelligent."
Pick your top 20 greatest All Blacks of all time.
Next Monday nzherald.co.nz will compare our experts' list with the public's.