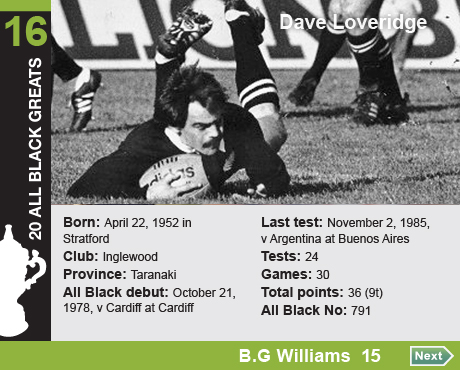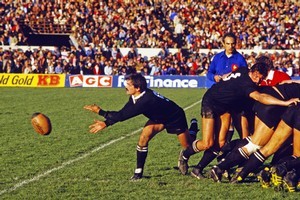 It's not too harsh an assessment to say that Dave "Trapper" Loveridge's first steps into the world of first-class rugby did not augur well for a long and storied career.
Loveridge is remembered now as a Taranaki icon, the man who beat the Lions on his own in Wellington in 1983, and as New Zealand's most famous pig farmer. But in 1972, he was a wide-eyed bank teller at the 262 Queen St branch of the Bank of New South Wales, playing social rugby for the Varsity Rovers.
"We had one training a week and it wasn't on a field," jokes the 49-year-old.
Pick your top 20 greatest All Blacks of all time.
He had a fair crack with University in 1973, and his form was good enough to convince the selectors that, in the absence of tyre merchant Bruce Gemmell, he was capable of donning the blue and white hoops.
His first appearance saw them squeak out a win against Thames Valley. His next was a trip to the winterless north to face Northland.
"They had three Going brothers in the backline. They were going all right."
The 34-3 loss was his last game for Auckland, though he did watch from the bench as Auckland travelled to Taranaki late in the season.
The next time those teams met Loveridge would be in amber and black as he had returned to the family pig farm.
Loveridge's education was gathering pace. Taranaki's backs might have been largely superfluous on the bogs they invariably played upon, but behind a pack including Ian "Legs" Eliason, the McEldowney brothers John and Bryce, Ash Gardiner, Ross Fraser and, a bit later, Graham Mourie, Loveridge began to gain the confidence needed to bark orders at these vastly experienced operators.
In 1975 he made the Junior All Blacks alongside Mourie, but his route to the top was still blocked by the likes of Sid Going, Lyn Davis, Ian Stevens and an emerging talent from Manawatu, Mark Donaldson.
"Like a lot of players, my dream was to play for the All Blacks but that is all it was in those days, a dream," he says.
Loveridge dislocated his knee while playing for Taranaki against the Lions in '77, but the following year he made the trials and sat back and waited to see who would be picked for the year-end Grand Slam tour.
"In those days you never got a whisper," Loveridge says. "We were playing Southland that day. I was standing around with some family members and Leicester Rutledge, Brian McKechnie and the like and we were listening to it on the wireless. Your name was read out or it wasn't."
Loveridge's name was read out, then the serious business of being an All Black began.
Over the next seven years Loveridge would play 54 times for the All Blacks, including 24 tests (three as captain). Most of them would be played to a level that places Loveridge among our best players and certainly our greatest halfbacks.
Loveridge kicked accurately, he passed well and he was a deceptive, darting runner. Perhaps his greatest skill was knowing the right time to employ each of those skills.
His initial test was dramatic. He was standing waiting for lineout ball at Cardiff Arms Park, down 12-10, when locks Frank Oliver and, more dramatically, Andy Haden, came flopping out of the set-piece.
"Andy landed right beside me but I never saw him, I was watching the ball."
His final test in 1985 was also momentous, with the All Blacks lucky to gain a draw against Argentina in Buenos Aires. By then Loveridge was struggling with a chronic knee injury. His days as a top-line player were effectively over.
Loveridge will be best remembered for the second test against the 1983 Lions at Athletic Park. Turning against the wind at just 9-0 up, Loveridge had scored the game's only try, there was a real danger that the accurate boot of Ollie Campbell could peg back that lead and surpass it with ease on the southerly gale.
Instead, Loveridge put on a masterclass, keeping the ball in close, darting around the fringes and enlisting his eight forwards in unified support. The Lions never got a sniff; Campbell not one shot at goal.
"I was pretty happy with the way I played, obviously, but the forwards were magnificent that day as well. It was great to win it and to think you played a major part in it, but really it was a real team effort," Loveridge recalls.
Maybe so, but to this day coach Bryce Rope's assessment rings truest. He described it simply as "Trapper's test".
How Taranaki icon became a 'Trapper'
Affectionately known as Trapper throughout his career, Loveridge was named so by one-test All Black Ash Gardiner after one of his first practices for Taranaki. On a typically sodden night, Loveridge's fashionable shoulder-length hair and droopy moustache gave him a distinctive look. "You look like a drowned rat," Gardiner claimed. "We'll call you the rat-trapper." Soon after, the rat was dropped but Loveridge carries the last part of that moniker to this day. Where is he now? Loveridge works as a coaching development officer for the Old Boys-University club in Wellington.
Pick your top 20 greatest All Blacks of all time.
Next Monday nzherald.co.nz will compare our experts' list with the public's.