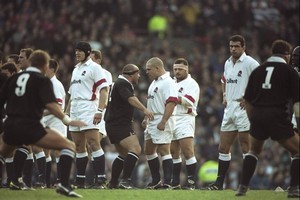 As former All Black hooker Norm Hewitt had his opposite Richard Cockerill in his face he could only think of one thing.
It was 1997 and the All Blacks were about to start their match against England at Old Trafford when Cockerill got up close and personal with Hewitt, who led the All Blacks in the haka.
Hewitt says the incident, which ended with pushing and shoving between the pair, and the English team standing toe to toe with the All Blacks is an ingrained part of "rugby folklore".
"It was like there were only two people on that field," says Hewitt. "At one point I thought to myself 'if I had a patu [club] I would have cut his head off' and I was going into that place.
"I don't know why ... it was a big game and we were going to war and he's my enemy, [a] kill or be killed scenario. I likened it to that and yeah, I suppose it is now part of that folklore much like when the Irish stepped over the line with Buck Shelford."
To this day, the pair have never discussed the drama over a beer although Cockerill later said in a television interview he looked at his captain Martin Johnston hoping for some endorsement for his actions.
"We turned back for the kick-off after we had done it and I looked at him sort of hoping for a bit of advice and he went 'what the f*** have you done?'," Cockerill told rugbydump.com.
Hewitt says while he never took offence at the posturing, the English team literally crossed the line that day.
"Rugby has a number of unwritten laws; one is you never attack the head when you're on the ground," said Hewitt.
"The other one was there is this sacred [haka] line and you don't cross it."
The incident made for great drama but Hewitt believes it also heralded the end of that theatre when officials stepped in to ensure there were no more pre-match shenannigans.
"They started managing things more, we had to stay back at the 10-metre line, that kind of thing. We were briefed that it was not to happen again but I made it very clear that if they broke the protocol then we either sit back and lie down or we step up and get in their face."
"There was always that controversy happening internally and of course there was always the debate with the haka heading down [to the ] South Island and doing Ka Mate down there because of the Ngai Tahu people. We never entered into that debate because we wanted to keep it neutral."
Hewitt and Cockerill's stand-off was one of many in the history of the All Blacks' famous challenge to opponents.
In South Africa in 1976 the haka agitated the Afrikaaner administration which was determined that it should not be performed. But perhaps more surprising to former All Blacks prop Bill Bush was the reaction from his own side - half of whom didn't want to do it.
After a few minutes' practice in the changing room, the result was more "you put your right arm in, you take your right arm out ..." than the dynamic, fierce display rugby fans either love or hate today.
"Being Maori, I knew what it was all about - it was our heritage," says Bush. "But for Pakeha who didn't understand it, they thought it was a gimmick. You could hear some saying 'bugger that', it put them off their concentration ... today's players practise it often."
By the 1970s, after nearly 80 years of doing the haka, you might think the All Blacks would have had a fair idea of how to do it. Its history stretches back to 1888 when a New Zealand Natives side, containing five non-Maori, performed an unknown haka 17 years before the All Blacks did Ka Mate. But footage from years past shows a gradual decline in its performance. And if the All Blacks' 1973 showdown against the Barbarians was considered one the greatest matches ever, the haka before it was surely one of the worst.
The man credited with bringing mana back to the All Black haka, Buck Shelford, said the haka was "the bloody last thing" on his mind when he made the 1985 side that toured Argentina. A chat with Hika Reid changed things - and the way the All Blacks' haka have been performed since. "I said to Hika, 'if we are going to do it, we're going to do it right, we are not going to disrespect our haka'."
In 1987, the All Blacks went to Te Aute College, near Hastings, where 400 students gave an inspiring haka performance. "It went from there really, getting people into their lines and teaching people the actions, words and what it was all about."
The All Blacks duly won the inaugural World Cup and Shelford started to notice the haka really "began to mean something".
"Our Samoan boys like Joe Stanley and Michael Jones and our Pakeha boys, they really took to it and people wanted to see it. It gave us that mana over the opposition before you headed into the game."
There have been various attempts to nullify it since, he says, but a few stand out.
"Willie Anderson and the Irish got right up to us and responded to the challenge in 1989. They were a tough team to beat. England did it once or twice as well ... you had Richard Cockerill and Norm [Hewitt]. If they want to come up let them come up - it's fine as long as no one touches anybody ... save that for the game."
If Shelford has a haka gripe it's that Ka Mate is done too fast. He would also like to see the modern Kapa o Pango, which reflects the cultural diversity of the All Black team, more often. With its throat-slitting gesture, Kapa o Pango caused a sensation when it was introduced in 2005 and, although public opinion was supportive, Wallaby coach John Connolly said it "could incite murder".
Later that year, following a stand-off in Cardiff, the All Blacks performed Ka Mate in their dressing room rather than hear the Welsh anthem.