We trawl through the gossip mags, so you don't have to.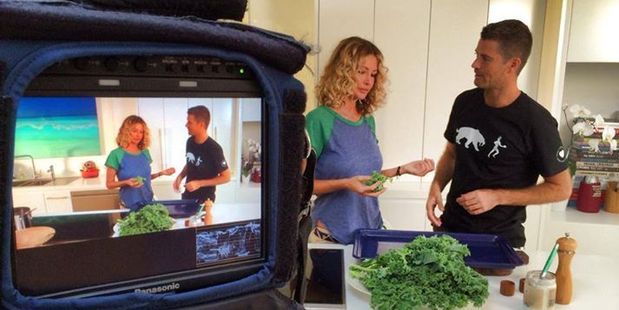 1. Nicky Robinson (previously Watson) and Pete Evans told the two little girls in their lives about their engagement over a "yummy chicken and vege soup". It's that level of detail Woman's Day gets out of the pair when they sit down and talk about their news. Robinson and the My Kitchen Rules judge were in New York when Evans popped the question.
"I envisioned [Evans' daughters] Chilli and Indii with flowers in their hair, dancing around, giggling and that's when my tears came. I wrapped my arms around Pete and held him tight," Robinson says of the moment.
"We both felt this overwhelming sense of peace and gratitude towards each other," Evans remembers. "I love Nic for the abundance of unconditional love she has for our world and every living creature on it." It's like a Nicholas Sparks novel really, isn't it?
2. Age is but a number when it comes to romance. And it's the same for bromance, apparently. Shorty St's Pua Magasiva, 33, might be twice as old as his co-star KJ Apa, but that doesn't stop the pair swooning all over each other in this week's New Idea.
Magasiva says working with Apa is "like hanging out with a young, better-behaved" version of himself: "[He's] such a good kid and I love having him around." Meanwhile, when asked to describe his mate in five words, 16-year-old Apa (who plays Kane Jenkins) went with "Funny, confident, fit, generous and small". You guess is as good as mine on that last one.
3. Rachel Hunter has been hanging out with her ex-step daughter, Kimberly Stewart (Rod's girl). And lucky for us, she's documented her very photographic kids Liam and Renee hamming it up for the camera alongside their big sis. New Zealand Woman's Weekly has pictures of the family pouty duck-faces, which were made during a dinner party Rach was hosting; the guest list of which also included David Beckham's mate David Gardner.
4. Masterchef NZ winner Nadia Lim is in no rush for motherhood, according to NZWW. Kind of. While the headline screams "Business before babies", Lim says she and husband Carlos would like to start a family in the next 18 months. The reason for the, sort of, wait? "Dare I say it, if I had kids now, they would be taken off me," the busy celeb chef says. "I wouldn't have time to look after them." Yeah, probably a good idea to hold off for a bit then.
5. He's got a voice the nation knows, but we don't often see Geoff Robinson's face - until now. This week, the recently retired host of RNZ'S Morning Report, sat down with NZWW to talk about his last day in the hot seat. It turns out, son Ben also works at RNZ, and Robinson has apologised to him and daughter Holly for his career. "When they were growing up and doing media studies at school, I don't think it was pleasant to have their teachers talking about their dad," he says. "[And] we always had to eat [dinner] earlier than others - as I keep being reminded." But the job had it's upsides. "I got to play golf during the week when no one else was on the golf course." Bye Geoff, our loss is the driving range's gain.
- nzherald.co.nz