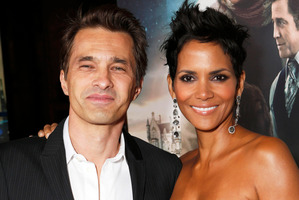 Halle Berry - who already has a five-year-old daughter Nahla with her former boyfriend Gabriel Aubry - has confirmed she is expecting a baby with her fiance Olivier Martinez.
A spokesperson for the 46-year-old actress told UsMagazine.com: "We can confirm that Halle Berry and Olivier Martinez are expecting a child."
Another source close to the actress said: "She's elated."
Berry is thought to be three months pregnant and is having a boy.
An insider told E! News: "Halle and Olivier are really excited. It's a blessing. They can't wait to have a baby together."
Earlier this week Berry was forced to break up a fight between Martinez and a photographer.
She restrained her fiance and pushed him into their waiting car after a paparazzo accused him of pushing him at Los Angeles International Airport.
The incident happened when the French actor, 47, was trying to navigate his way out of the terminal while carrying Nahla after they arrived back from a break in Hawaii.
Berry became hysterical as they attempted to leave the area amid dozens of camera flashes and pleaded with photographers to leave them alone.
After a photographer told her "he pushed me," she replied: "There is a child. There is a child here, that's why you idiots."
Martinez placed Nahla in their car and then attempted to confront the photographer but Halle said: "Olivier no, Olivier no" and pushed him into the vehicle.
- BANG! Showbiz