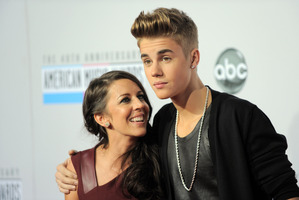 Justin Bieber may cause hysteria among millions of teenage girls but the Canadian-born pop star is not known for getting mixed up in political controversy.
That clean-cut image might be about to change as his mother, Pattie Mallette, 37, is one of the driving forces behind a prize-winning US film which aims to raise millions for the anti-abortion cause.
The short film, Crescendo, will be shown at 100 events in the country at the end of next month, and organisers hope to screen it at about 1000 locations worldwide in the course of the year.
They hope eventually to raise US$10 million ($11.9 million) towards running "crisis pregnancy centres".
Mallette, a Christian who has been outspoken about her anti-abortion beliefs, is preparing to take a strong role in promoting the film, on which she is also credited as an executive producer. She has recorded a short video statement to be shown at screenings and will appear at some events.
On the film's website pictures of Mallette and Justin have been posted, and in a video there she refers to her megastar son.
"I'm the mother of Justin Bieber. We both know firsthand the importance of the work being done at pregnancy centres across the country," she says.
Mallette has described her struggles when she was pregnant at 17 with Justin. In her memoir Nowhere But Up: The Story of Justin Bieber's Mom, published last year, she wrote of being pressured to have an abortion and deciding not to go through with it. "I knew that I had to do what it took," she wrote. "I just couldn't abort him."
Mallette said she hoped Crescendo would show young women in a similar situation that they could make the same decision.
"My hope through this involvement is to encourage young women all over the world, just like me, to let them know that there is a place to go, people who will take care of you, and a safe home to live in if you are pregnant and think you have nowhere else to turn," she said.
The 15-minute film is set in the 18th century and tells the story of a single day in the life of a pregnant woman. It stars Ali Landry, a former Miss USA, and is backed by the team that made the 2006 film Bella, whose pro-adoption themes made it a major hit with the US anti-abortion movement.
Screenings at film festivals have won praise from figures in the anti-abortion cause and also some religious leaders.
But Bieber is unlikely to embrace the cause as openly as his mother. He wants to acquire a more adult appeal and the tricky transformation is being closely managed by his team, who are no doubt mindful of the upset caused in 2011 when Bieber said in an interview that abortion was "like killing a baby".
His mother's involvement with the movie is coming at a time when the abortion debate in America is as heated and divisive as ever. Last week saw the 40th anniversary of the landmark Supreme Court decision known as Roe v Wade, which paved the way for legalising abortion in the US. While many women's rights groups across the country celebrated the moment as a blow for reproductive freedom, it also sparked a large anti-abortion rally in Washington DC.
- Observer