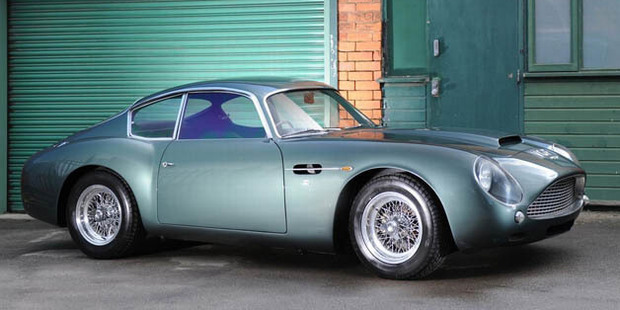 British auction house Bonhams each year holds a sale at Aston Martin's old Newport Pagnell factory.
The headline sale this year was a rare DB4GT Zagato "Sanction II" coupe (pictured), one of only four built. The deal between Aston Martin and Zagato netted 19 DB4 GTs between 1961 and 1963.
Thirty years later, Aston sent four unfinished chassis to Zagato's headquarters in Milan. The fourth and last of the "Sanction II" coupes sold recently for $2.5 million.
Other Astons sold included a 1962 DB4 Vantage convertible for $1.3 million, a 1963 DBS convertible for $1.03 million, a one-of-a-kind 1971 DBS shooting brake outfitted for fishing for $734,000.
A 1994 Virage Volante once used by Prince Charles and a 1994 Virage owned by boxing champ Lennox Lewis also sold. Meanwhile, snapped testing at Germany's Nurburgring circuit is a lightly camouflaged Aston Martin, codenamed AM310.
Power from the 6-litre V12 engine is around 420kW, the carried-over platform has been revised, but everything else will be new, say reports, including the lighter-weight aluminium and carbon-fibre body.
Maserati from 1950s just the ticket
Top of the list at US auction house Gooding and Company's sale at Monterey Beach in August is a 1955 Maserati A6G/54 Frua Berlinetta owned by Jamiroquai frontman Jay Kay.
It was the star of the 1955 Paris motor show and is expected to fetch upwards of US$1.5 million ($1.9 million).
Also up for grabs is a 1938 Bugatti Type 57C Stelvio convertible.
An original 1966 Shelby 427 Cobra is on the docket, with pre-sale estimates at US$750,000-US$950,000.
BMW Zagato turns heads at the lake
Another Zagato design has pulled in punters, this time at the Concorso d'Eleganza Villa d'Este at Lake Como. It's the BMW Zagato Coupe, which the carmaker says is a one-off concept. But the car is road-registered in Germany and has undergone high-speed testing. BMW won't say what's under the bonnet but observers reckon the Zagato reeks of Z4 Roadster underpinnings.
Song honours Shelby legend
US country music great Mac Davis has recorded a tribute to Carroll Shelby. He wrote the song years ago but waited until Shelby passed away last month before going public with it. It's a history lesson for those who thought Shelby's fame began and ended with a few Mustang GT500 models. Davis wrote songs for Elvis Presley, including In The Ghetto.
Delta dawn for Formula One
Is this the future of Formula One? It's the DeltaWing project, developed by big US racing names such as Dan Gurney and backed by Nissan. It was originally a proposal for the new IndyCar chassis, but organisers went for something more conventional. So the brains behind the project adapted it for endurance racing. The next step is the American Le Mans Series.
Nissan to unveil five new models
Nissan will soon introduce five new global models, including the Altima, Pathfinder, Sentra, and Rogue. Already there is much praise for the 2013 Altima sedan, launched this week to motoring writers in the US. One of the reasons is for Nissan's Easy Fill Tyre Alert system, a win-win electronic gizmo which honks the car's horn when you've inflated your tyres to the correct pressure. Nissan introduced the system on its Quest minivan last year and will now put it on all models. The next Maxima is commanding attention, too, even though it is not due until 2015. The eighth-generation model is expected to sit on a front-drive platform, though there is talk it might revert to a rear-drive set-up, like the first-generation example.
VW gets nostalgicwith new beetle
Volkswagen will unveil the soft-top version of its third-generation new beetle at the Los Angeles motor show in November. Part of the hype around the new model are three special launch editions, each one dedicated to a specific decade from the original beetle's long history, tipped to centre around the 1950s, 60s and 70s. Special touches will be period-specific, including unique colours, seat upholstery and even white-wall tyres.
We are the world
* Jose Romero-Valenzuela, 34, was in such a hurry to get to court in Oregon for a hearing on drug charges that he picked up three speeding tickets within the space of an hour. Each ticket was for doing more than 150km/h.
* When William Todd got off a bus in Nashville, Tennessee, and found he had a nine-hour wait for the next bus, he figured he could kill time with a little larceny.
Among the 11 charges he faces are shooting up a restaurant, setting it on fire, robbing four people at a bar, carjacking, breaking into a law office and defecating on a desk, trolling hotel rooms seeking to steal, and stealing a taxi and robbing the driver.
"I've never seen anything like this before,"' said a Nashville police sergeant.
Todd was finally caught hiding in a barrel of water up to his nose.