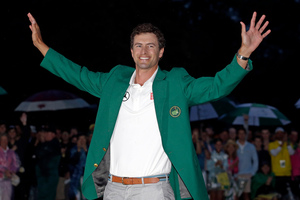 It's not hard to find self-absorbed players in the world of big-time professional golf, but one story is all it takes to demonstrate that new Masters champion Adam Scott is an exception.
Not that Scott doesn't have a ruthless streak, and a steely (largely hidden) resolve - more on that later - but he's a multi-millionaire who isn't wrapped up in his own importance.
After the 2006 US Open, Scott was at a New York airport, about to fly back to London on Ernie Els' private jet, when he received news that fellow Australian Geoff Ogilvy had won the major championship.
It would have been easy for Scott to just whip off a congratulatory text message to Ogilvy as the plane took off, but he went the extra mile - literally.
Scott got off the plane, rented a car and made his own way back to the Winged Foot course to be present when Ogilvy was presented with the trophy.
"I'm ecstatic for him,'' Scott told AAP at the time, before enjoying a quiet celebration with Ogilvy at the local Crowne Plaza Hotel.
Scott booked himself on a commercial flight back to London the next day. In the rarefied air of professional golf, that qualifies as a big sacrifice.
But Scott's simple humanity and politeness, and lack of public displays of on-course anger, misled some into believing he didn't have much fire in his belly.
Nothing could have been further from the truth.
It's just that different players get the best out of themselves in different ways. There is no single correct method.
Tiger Woods and Ogilvy lose their temper without trying to disguise their fury, while Scott and Phil Mickelson generally try to stay on an emotional even keel, at least on the course.
All are major winners. There is more than one way to win a green jacket or a Claret Jug.
Scott, however, can be ruthless when he thinks it's professionally necessary.
He has fired three caddies during his professional career, and quickly ditched a Hollywood management company when he realised he didn't like the job they were doing on his behalf.
He also sacked renowned coach Butch Harmon in 2009 and hasn't looked back since.
They were all tough professional decisions, demonstrating he's prepared to do whatever he believes is needed to achieve his goals.
Those goals, primarily, have been to win major championships, and the 2013 Masters could be the tip of the iceberg.
But it's premature to count any chickens, because there are no guarantees. Among currently active players, only Tiger Woods (14) has won more than four majors.
They're just not that easy to come by.
Scott's father Phil was once asked when he first realised that Adam was going to be more than just a good, low-handicap amateur?
Phil replied that the penny dropped during a round when Adam, who was 12 at the time, hit a perfect one-iron from the fairway that soared long and high in exactly the intended trajectory.
Lee Trevino once joked that during a lightning storm, you should hold your one-iron in the air, because even God can't hit a one-iron.
Maybe God can't, but Scott can.
-AAP