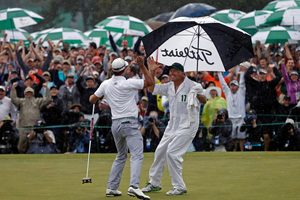 New Zealand golf caddie Steve Williams may have carried his last bag at Augusta National, after expertly guiding Australian Adam Scott to the Green Jacket at the US Masters tournament at Augusta National in Georgia yesterday.
Williams was called in to read the winning putt on the second play-off hole against Argentine Angel Cabrera.
"I'm sort of a bit numb now to be honest, I don't usually get numb ... you know to carry for the first Australian to win here, it's incredibly special and right up there on my list, that's for sure," Williams said.
The 49-year-old Williams, who caddied for world No1 Tiger Woods for 13 years, was frank about his future beyond this year.
"Obviously at the end of every year I reflect on where I'm at, I want to get through this year first."
He was told yesterday that "I have the longest stretch of caddying of all the caddies at this tournament, 26 or 27 straight years of caddying at the Masters, something like that.
"I've caddied for 35 years now, so yeah, my time is definitely coming to an end."
Having helped win his favourite tournament for the fourth time and having guided his 32-year-old Anzac partner into the Australian sporting history books, Williams said: "It's not like I'm going to quit tomorrow, but I've got a family now and I want to watch my son grow up. He loves rugby and he loves speedway like his dad does so I don't want to miss those things."
Williams confirmed it was his tip that helped Scott hole the winning putt on the second playoff hole.
"I said to him 'Adam, that putt breaks a lot more than it looks. It's one of the quickest putts on the course, it's two cups out to the right. So you know he holed that putt and, yeah, that's going to be pretty special for me." Williams said he "just happened to have seen that putt before".
"He holed that putt and said 'you're a ...' - I don't want to use the explicit [sic], but he said 'you're a you-no-what legend', so it was a fantastic finish."