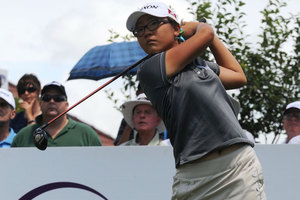 World No1 amateur Lydia Ko has picked up where she left off in 2012 in her first tournament of the year, by claiming a share of the honours in qualifying for the Australian Amateur Championship.
The defending champion fired rounds of 69 and 71 at the Woodlands and Commonwealth Golf Clubs on the Sand Belt respectively for a six under par total to share the two round stroke play title with Victorian Grace Lennon (70, 70).
The 15-year-old from the Gulf Harbour Country Club qualified as the No2 seed for the match play as Lennon's final round 70 was lower than her 71.
"I played pretty convincingly," said the youngest winner of a professional event in golf history. "I was happy with my accuracy off the tee. I can't wait to start the match play champs."
Ko is looking to become the first golfer to successfully defend the Australian Amateur title since Michelle Ellis (NSW) did so at the Glenelg Golf Club in South Australia in 1996-1997.
The New Zealand representative, who has been nominated as a finalist for the Halberg Awards for the Sportswoman of the Year Award, is not reflecting on her record-breaking 2012. She is making a fresh start.
"It will be quite hard to back up what I achieved in 2012 as it was a great year for me," said Ko.
"It's a whole new year and I am going to try and start fresh. I am feeling a bit of pressure as I know people are expecting a whole lot more from me but I have just got to play my game."
Ko, who will play New South Welshwomen Jessica Dengate (31) in round one, is excited by the prospect of defending her title.
"It would mean a lot [to defend] and the field seems stronger this year so I will be so proud of myself. But I have got to have one shot at a time. It is great to be back playing tournament golf."
New Zealand Amateur Champion Munchin Keh shot rounds of 70 and 80 to qualify as 10th seed for the match play, while Wellington No1 Julianne Alvarez had scores of 77 and 78 to finish as the 19th seed.
Keh squares off with Queenslander Dee Russell (23) and Alvarez will face No14 seed Carly Beck (NSW) in round one.
Waikato rep Sarah Bradley carded rounds of 81 and 87 to finish well off the pace in a share of 54th on 22 over par while her Waikato team mate Hanna Seifert fired 83 and 78 to miss the cut by three strokes.
The Australian Women's Amateur Championship is contested over 36 holes of stroke play qualifying, with the leading 32 players progressing to elimination match play.
Meanwhile in the Australian Amateur Men's Championship, Auckland rep Sam An finished as the leading Kiwi on a seven under par 139 total at the Commonwealth Golf Club to qualify fourth.
The 2011 New Zealand Under-19 champion was three shots back from Western Australian Brady Watt who finished as the top seed on a 10 under par 136 total.
A total of seven New Zealand golfers advanced to the Match Play stage of the Championship inside the top 64 qualifiers.
Rotorua golfer Peter Lee and Tasman rep Blair Riordan qualified as the next best Kiwis in 20th and 35th place respectively.
Levin golfer Tyler Hodge (49), Bay of Plenty rep Brad Kendall (57), North Harbour golfer Cameron Jones (60) and American based Keelan Kilpatrick were the other Kiwis to advance.
Australian Amateur 36 Hole Qualifying Final Scores- Woodlands and Commonwealth Golf Clubs (Par 73) (AUS unless noted)
140 Grace Lennon 70 70, Lydia Ko (NZL) 69 71
142 Minjee Lee 68 74, Asuka Kashiwabara (JPN) 71 71, Kotone Hori (JPN) 72 70
143 Tatiana Wijaya 69 74
144 Hannah Green 71 73,
145 Jing Yan (CHN) 71 74
148 Su-hyun Oh 73 75
150 Munchin Keh (NZL) 70 80, Shelly Shin 73 77
151 Meghan Stasi (USA) 79 72
152 Carly Beck 74 78, Cathleen Santoso 75 77
153 Ji-hyun Oh (KOR) 73 80, Elizabeth Elmassian 74 79
154 Grace Daniell 76 78
155 Ji-soo Park (KOR) 75 80, Jo Charlton 76 79, Ellen Davies-Graham 77 78, Julianne Alvarez (NZL) 78 77
157 Hayley Bettencourt 77 80, Nadine White 80 77, Dee Russell 81 76
158 Hannele Mikkola 78 80, Julienne Soo 83 75
159 Sue Wooster 76 83, Jenny Lee 77 82, Jessica Dengate 78 81, Lauren Sinclair 78 81, Ebony Heard 84 75 Lauren Hibbert 86 73
Also:
161 Hanna Seifert (NZL) 83 78
168 Sarah Bradley (NZL) 81 87
- APNZ