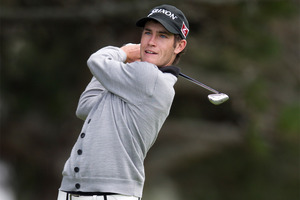 Levin golfer Tyler Hodge was the best of the Kiwis at the Australian Master of the Amateurs in Melbourne.
The 18-year-old, who last year became the first New Zealand golfer to win both the Australian and New Zealand Age Group titles in the same year, finished in a share of 11th place.
Hodge had rounds of 71, 76, 71 and 72 at the famous Royal Melbourne West Course to finish on a two over par total, 11 shots back from champion Viraat Badhwar.
Fellow Manawatu amateur Josh Munn was the next best of the Kiwi contingent in a share of 23rd place.
The 21-year-old, who has won two Charles Tour titles, had rounds of 72, 72, 74 and 79 to finish seven shots back from his Manawatu/Wanganui team-mate.
Southland golfer Vaughan McCall also faded in the final round with a seven over par 79 to slip back to a share of 27th place alongside compatriot Blair Riordan (Takaka) who finished with a 76.
The four Kiwis who played the Master of the Amateurs are now preparing for the Australian Amateur Championship which begins tomorrow at the Commonwealth and Woodlands Golf Clubs in Melbourne before the Lake Macquarie Amateur in Newcastle.
They will then travel to South Africa to contest the inaugural Ten Nations Cup in George from February 6-9.
- APNZ