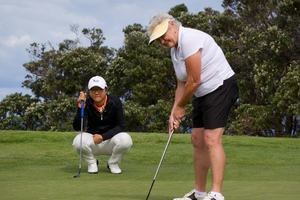 Young Kiwi golfer Lydia Ko's success this year was celebrated yesterday at Gulf Harbour Country Club.
And it is two favourite moments on the golf course that please her most.
The first came when the World No 1 amateur was playing the 27th hole of the US Amateur 36-hole final at The Country Club in Ohio. She hit her tee shot way right into a fairway bunker and handed her American opponent Jaye Marie Green the advantage.
"I hit a really poor tee shot and was in the bunker a long way from the hole and she put her approach shot to about six feet so I was under pressure," said the 15-year-old.
"It was a big moment in the match and I hit a great shot from the bunker that lipped out and in that moment I thought to myself 'Wow, anything is possible'."
Ko went on to become the first New Zealander to win the US Amateur crown and the second-youngest in history.
Her second favourite moment was at the Canadian Open in Vancouver when she became the youngest winner in LPGA Tour history and the first Kiwi to win on the tour.
"I think that birdie stretch that I had as the leader at the Canadian Open - I will always remember that. I birdied four in a row from 10 to 13 and to do that under the pressure of trying to win my first LPGA Tour title was a massive confidence boost for me. It made me realise that I can compete at the highest level."