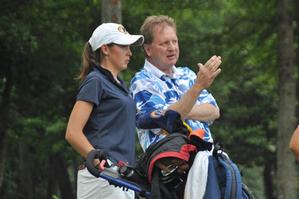 Two years ago Sarah Bradley was in an intensive care ward. Now the Cambridge golfer has received an award in the United States after overcoming a serious car accident and returning to her sport.
The 23-year-old won the Kim Moore Spirit Award at the National Golf Coaches Association banquet.
Bradley, whose career nearly ended 18 months ago, was deemed the collegiate golfer who best demonstrated mental toughness and a positive attitude in coming back from adversity.
In January 2008, Bradley was asleep in a car being driven by father Robert when the crash occurred. They were returning from a round of golf at Mt Maunganui.
Bradley was taken to Waikato Hospital and placed in intensive care before being transferred to the neurological ward.
"I spent four months at home in recovery, getting my health back and getting stronger," Bradley recalled.
She returned to Oklahoma State University, where she was a sophomore, but found it tough.
"I was in denial that there was anything wrong with me. I went back in the heat of summer and was trying to prove to my team that I was good enough to play again.
"I had gone from sleeping all the time and being in a cushion of recovery at home to the competitive golf world. It wasn't working and I was making myself more sick."
Simple things would worry her unduly. A headache would be accompanied by the nagging question of whether she was just tired, or whether it was symptomatic of her injury.
"It's not depressing so much, but disconcerting," she said.
She was about to return home when she was offered a scholarship to Kent State University in Ohio. Kent State had only a tenth of the athletic budget of Oklahoma, but it gave her what she needed - six months to catch up on her studies and prepare herself to play golf competitively again.
Last year she started to play tournaments again, making the collegiate team in August.
"Sarah's had a great comeback both personally and on the golf course - and it's not over yet either," Kent State head coach Mike Morrow said.
"What she's accomplished to this point is amazing. Her desire to return to school and play collegiate golf was off the charts. For her to win this award is a tremendous honour."
The most difficult part of Bradley's comeback has been coping with her memory loss. It made her studies that much tougher and she'd forgotten what it felt like to play competitive sport.
"I didn't know how to get my competitive juices flowing," she said.
Bradley is still not satisfied with her game. She's not even sure she wants to make golf her career. She loves the game but it's not the be-all and end-all. That, she says, is why the accident and painstaking recovery is the "greatest gift" that has been afforded her.
"I used golf to define myself. The reason I found the injury so frustrating was I classed my success by the fact I would get up at 6am each morning and train really hard, go to tournaments and feel really important.
"When that's taken away you have to find another reason why you're a good person ...
"When you come back and you're not as good, it's ego-busting.
"I'm a different person now."
Bradley returns to New Zealand in June to do an internship at Netball New Zealand.