What are you doing to support the All Whites? Share your photos and videos here.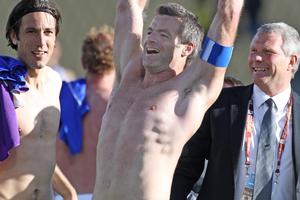 22/6/2010
Serengeti golf and wildlife estate
Johannesburg, South Africa
Who would have thought the All Whites would be heading into their last group game with a chance of progressing? Who would have thought we'd be sitting equal second and who would have thought we'd draw with the world champions? The 23 players along with the coaching and support staff, that's who!
Heading into the tournament, football fans in New Zealand had to choke on their breakfasts while reading the negative rubbish written in certain media. "Be careful what you wish for" was one headline I was reminded of by a friend in Wellington today. Not surprisingly, the media are singing a different tune now. If anyone doubted the result against Slovakia was the country's greatest sporting moment, then the Italian result has certainly shut them up.
Ryan Nelsen said in his post match press conference that there was something special in this team. For me, it's that man himself. Nelly's leadership skills both off and on the field are so impressive I giggle when some of the younger players seem to get nervous around him.
Without a natural born leader a team will never succeed and his pre-match talks have been truly inspirational. We always had the desire and hunger for success in South Africa, but his words an hour before kick-off solidified the belief within this group.
Those that questioned if New Zealand had the right to be at the World Cup, with only 25 professionals, now have an answer from thousands of All Whites fans.
We said we are not here just to compete and make up the numbers. Now, with that incredible support and fighting Kiwi spirit, we've proven that.
MOSSY