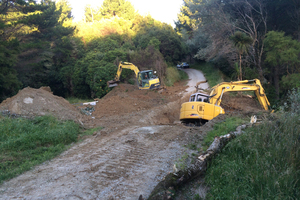 Gisborne's water crisis has been downgraded this morning, with industry thanking the public for "saving our bacon".
Last Monday the city's main water pipe from the storage lakes was broken by a landslide, putting the district into an emergency situation with severe water restrictions.
At a meeting with council leaders and the main stakeholders yesterday, crop processor Cedenco's Tim Chrisp said industry was grateful to the people of Gisborne for water conservation this week.
"It really saved our bacon - we have been sitting on the edge of our seats."
It was fortunate the break did not happen during peak production or losses could have been in the millions.
Cedenco is ramping up production. By last night they were expecting to be using 2500 cubic metres of water a day and by next Thursday up to 3500, reaching a peak of 4000m3 a day on February 7 when the new squash factory is commissioned and starts production.
When the pipe first broke, Cedenco drilled 20 bores on the factory site that can provide up to 1000 cubic metres a day.
"The water will only be used for waste management and external non-contact washing down. Until the quality is fully validated, it could not be used inside the factory in critical hygiene areas."
All industry is billed by the council for water use. It costs $1.20 a cubic metre.
Food processor LeaderBrand's Stuart Davies said saving water was something LeaderBrand always aimed to achieve and they had invested thousands into a water conservation project.
Gisborne District Council chief executive Judy Campbell said the council was now confident it would be able to supply enough water to keep up with demand from processing industries as production ramped up.
"There is little risk that any rationing measures will be required.
"The dams are quite full for this time of year. When the pipeline is completely repaired, we should be able to deliver adequate quantities of water - but we are not there yet."
At the moment the water is gravity fed and flows at around 300m3/hr. This will gradually increase the pressure on the welded section of the pipeline to allow checks for leaks.
Steel columns are used to stabilise the pipe and once in place, flow will be increased to pump to full capacity - around 1000 m3/hour. This should happen by Monday, when the hose ban will be reviewed.
"Until then we need to keep our water use conservative and a total hose ban will remain in place," said Mrs Campbell.
"Gisborne people have responded most generously to the council's request to save water.
"We needed people to use one-third less than they would normally do at this time of year. They have exceeded that target five days in a row.
"This has made our job and that of our contractors so much easier. Now there is no need for people to carry on with severe conservation methods. People can start flushing their toilets and start using their washing machines and dishwashers again. We want to people to continue to conserve water but not be greatly inconvenienced."
- The Gisborne Herald