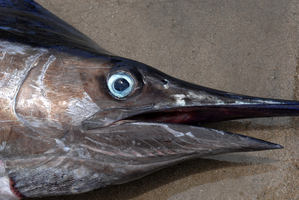 The first marlin have turned up on the Northland coast, but snapper fishermen are struggling at times.
Several blue marlin and some striped marlin have been caught out of Whangaroa and Tutukaka, but nothing had been landed at the Bay of Islands early this week.
Snapper fishing from popular holiday destinations is usually hard at this time of the summer season, and the start of this new year has been no exception.
An 8.63kg snapper came from the back of Red Mercury Island to win a local fishing contest on the Coromandel coast, but most holidaymakers have found fishing hard.
The Firth of Thames side of the Coromandel holds far more fish, and when the wind allows boats to get out, fishing is far more productive.
In Auckland, those heading out wide have found fish sign but the bite time is short.
The Waitemata Harbour has fish, but the boats are so thick one can almost walk across them.
One nice snapper of 6kg was reported from off the Chelsea Sugar Works, and the surfcasters on the downtown sidewalks have been catching snapper.
Fishing in the popular channels and spots like Matiatia is patchy at best, and nothing like the hot action at this time last year. But it is still early in the summer and next month may see an improvement.
The west coast has been fishing much better, but the westerly winds early this week put paid to any chances of getting out. Good numbers of albacore off the coast are reported, so when boats can get out wide they should find plenty of tuna action.
A Pukekohe fisherman took his family out recently and one incident proved that fish don't seem to suffer when hooked.
Harold Chapman, known to his mates as Flaps, catches a lot of fish and specialises in targeting gurnard on the Manukau Harbour in the winter, and snapper on the Manukau and in the Firth of Thames for the rest of year. He was out in the firth fishing one of his spots in deep water, using fresh yellowtails for bait, and had three guests on board including his nephew and his mate.
His nephew, Nico Manning, 12, from the Awhitu Peninsula, usually fished off the Raglan Wharf, but had never seen fishing like this.
"I put a whole yellowtail with the head cut off on a couple of gang hooks and when the rod went young Nico took the rod. He did pretty well and when the fish came up through the water I could see it was a good one, so I said, 'Don't lift it out of the water', while I went and got the net.
"I only had 6-kilo line on the reel and when I turned around he had lifted it and snapped the line. It broke the line at the swivel.
"He was devastated. He knew he had stuffed it up, but I told him, 'never mind we'll get another one.'
"Well, I put out another rod and put it in the holder and five minutes later it started nodding, so told Nico to grab it. This time he didn't make any mistake and when I netted the fish it was a beauty - 5.2kg.
Then another hook fell out of its mouth with the trace still attached, and that was my hook that had broken off five minutes ago. It was the same fish. No doubt about it. It just goes to show that when they are hungry, being caught doesn't bother them at all.
"Nico said : 'Uncle Harry, the Raglan Wharf sucks!' We finished the day with 20 nice snapper on board and two youngsters with smiles a mile wide," said Flaps
Bite timesBite times today are 1.10am, 1.40pm; tomorrow 2.05am, 2.35pm.
Tip of the week Using light line and sinkers will hook more fish than heavy tackle, and if fishing over a clean bottom with no foul big fish can be handled on light gear.
More fishing action can be found tonight on Rheem Outdoors with Geoff, 5.30pm TV3, with the start of a new series.