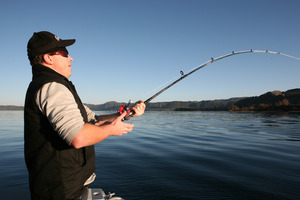 A lot of trout were caught close to the surface on Rotorua's lakes on the new season's first day of fishing, on Monday.
Traditionally, shallow harling and trolling is the main method at first light then, as the sun rises, techniques which take the lures down deep are used - such as downriggers, jigging, wire lines and lead-core lines.
But the inclement weather on opening day kept fish near the surface, and they were being hooked out in the middle of Lake Tarawera on shallow lines. Fish and Game rangers checked 442 anglers on Tarawera, which was the best-performing lake, and weighed and measured 543 trout.
"That is an average catch-per-angler rate of 1.23, which is slightly down on last year," says Matt Osborne, of Fish and Game in Rotorua. "The 2-year-old fish averaged 53.2cm long and 1.71kg in weight. That is pretty good for fish which were released into the lake 12 months earlier as 1-year-old fingerlings."
The trout were 7mm longer than those caught on opening last year, but slightly down on weight when they averaged 1.85kg. Some boats carrying three or four anglers came into Boatshed Bay in the afternoon with 13 or 14 trout so, as always, some fishermen do better than others.
The productive lures included black tobies, cobras and Tasmanian devils in fluoro pink and traffic light.
Following studies on smelt spawning and behaviour and an experimental scheme in which trout were released monthly through 2010, officials are changing the timing of liberations in the big lakes.
"In the past we have released a large number in one hit, in May and September," says Osborne. "But if those young fish encounter unfavourable conditions, which may be an early winter or a prolonged winter, and poor smelt numbers, you will lose some of them. So, from this year, the liberations will be spread over several months from September to December, and from February to May."
The largest trout weighed on Tarawera was 3.85kg, and on Lake Okataina it was 3.9kg. Fisheries officers interviewed 102 anglers on Okataina with 116 fish, giving a catch rate average of 1.14. The average length was 54.3cm with a 1.97kg average weight.
Lake Rotoiti was the other popular lake and opening day attracted 336 anglers who were checked for 273 trout caught, which is a catch rate of 0.81, and an average length of 50.6cm and 1.55kg in weight.
"Rotoiti usually starts slower and picks up when the thermocline becomes established later in the spring," Osborne adds.
The largest trout weighed on Rotoiti on opening day was a 4.25kg fish 68cm long, which was a 3-year-old.
Ohau Channel is the other popular spot on opening day, and fly fishermen there found the fishing harder than on the lakes. The 36 anglers surveyed had only 18 fish. The biggest was a brown trout of 4.56kg, and the biggest rainbow was 77cm, weighing 2kg.
Fly fishing in the channel depends on the annual migration of smelt from Rotoiti. Trout follow the smelt, which spawn in shallow water along the eastern shore of Lake Rotorua. It has been three years since a major smelt migration coincided with the season opening, producing hot fly fishing.