Garth George writes that newspapers are delving deep and providing a lasting record, as our hearts go out to all Cantabrians.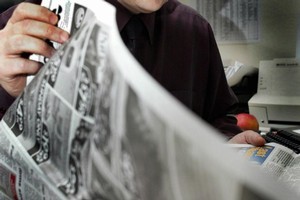 Thank God newspapers still exist, defying all the regular predictions over the years that their day is done, their time is come and they're on the way out.
And thank God for today's newspaper journalists - reporters, photographers, sub-editors, artists and editors - many of whom are several generations ahead of me in the practice of their craft, who know how to tell and to illustrate and to display a cracking good yarn.
The newspaper coverage of the Christchurch earthquake has been outstanding, right from the time the first editions of the two main Sunday papers hit the shops and arrived in mailboxes.
That is not to say that radio and television have not played their part - they have. TV One's and Newstalk ZB's Saturday coverage was exceptional, perfect examples of the immediacy those media provide.
Their reporters, cameramen and anchors did a marvellous job, and I commend them highly for it.
This was the electronic media at their best, and kept me watching TV during daytime pretty much for the first time since the Twin Towers collapsed in New York eight years ago this Sunday. I said a quick prayer of thanks to the good Lord that there had been no fatalities, and rang my cousin, a widow a year or two older than I, to make sure she was okay.
I feel sorry for those hundreds of thousands of Kiwis who rely only on TV and radio for their news. When it comes to the big, important and complex stories, you might see and hear fragments of them on radio or TV, even have some of them repeated ad nauseam, but you never get the full story - about anything - until you open your newspaper.
And you can't keep the TV words and images for future reference, unless you have sophisticated and expensive electronic equipment. But you can throw newspapers into a cupboard and the words and images will still be there years and years later when you open the cupboard and, having glanced through them and wondered why the hell you kept them, throw them out.
The Sunday Star-Times devoted 10 broadsheet pages to the earthquake.
I read every word, scanned every picture and graphic, and by the time I had finished I thought I knew all there was to know about our biggest domestic calamity in nearly 80 years.
Until I bought the Herald on Sunday and found it had even better coverage on 10 tabloid pages, including one of the finest pieces of journalism I've read in a long time. I don't know who the rewrite journo was who put it together, but my hat is off to him or her for the Page 5, present-tense record of personal experiences when the Earth moved for hundreds of thousands of Cantabrians. Brilliant.
However, the Herald on Sunday blotted its copybook with its editorial taking a supercilious swipe at Civil Defence officials, politicians and television for being slow off the mark. What on Earth does the writer expect? That at 4.36 on a Saturday morning there are people sitting around waiting with their fingers poised over a panic button?
This newspaper's coverage on Monday was comprehensive and detailed, brought me right up to date with the aftermath, and has continued to do so since - including, of course, regular updates throughout the day on nzherald.co.nz - while the television set stays blank in the corner of the lounge.
As is always the case when disaster strikes, the best and the worst of human nature come to the surface, and so it has been in Christchurch. Fortunately the worst - looting, rubbernecking and other acts of stupidity - were quickly stamped out.
As was, I hope, Jim Anderton's bid for the Christchurch mayoralty. Mayor Bob Parker has excelled himself as a leader, although comparing him with New York's Rudy Giuliani post-9/11 is a bit over the top.
Confronted with this comparison, Mr Anderton, having damned Mr Parker with faint praise while he himself stayed well away from the action, said: "What happened to Rudy? Where is he now?"
This simply confirms the last person you want as a civic leader (Aucklanders take note) is a has-been national politician, who has lived in the poisonous, combative atmosphere of Parliament for as long as Mr Anderton has.
Meanwhile, it has been heart-warming, though not a bit surprising, to read of the tremendous community spirit that pervades the stricken city, the pragmatism that says, "Okay, we're a bit under the weather so let's all get together and fix things".
My cousin bears witness to the great blessing of having caring neighbours and friends and pays particular tribute, too, to the bureaucrats who deal with superannuitants, who have either telephoned or visited every Canterbury pensioner whom they know to live alone to check on their welfare.
What a shame it takes an earthquake to bring out the best in us - and our newspapers.