It's that time again. Justin Newcombe talks us through planting tomatoes to get the best of them for endless summer sauces, snacks and salads.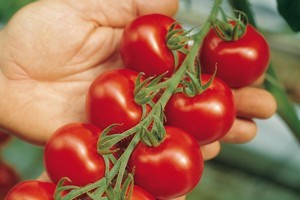 I wrote about tomatoes this time last year, but such is the enduring popularity of this seasonal favourite that here I am again going through the motions with our friend "tomato". Besides it just wouldn't seem like Labour Weekend if I didn't mention them.
Competitive relatives aside, the reasons for growing your own tomatoes this summer are limitless. What it really comes down to though is taste, and the satisfaction of creating something that is far better than anything you can buy. Traditionally this is the weekend when, in many parts of the country, we plant our tomato plants out in the garden. But it does depend on your own personal micro-climate so there are no hard and fast rules.
What is required is fairly consistently warm weather (notice how I'm hedging my bets here?) so any time over the next month or so should see you right. Mind you, it is probably getting a little late to sow your own seed.
Seasoned tomato growers tend to become stuck in their ways as far as variety selection goes.
It pays to stick to a winning formula. If you're new to the game, perhaps do a little research on all the varieties. Options abound and like any consumer exercise these days the result is often mind-numbing confusion. What we've tried to do in our garden over the years is hone the selection down to one example of all the basic types.
For us that means choosing a cherry tomato for snacking on (although these are very versatile in summer cooking), a beefsteak for awe-inspiring sandwiches and fry-ups, a roma type for bottling or saucing and perhaps a couple of unusual heirloom varieties to add a bit of excitement. If it all seems too much you could always ask around family and friends in the know for recommendations - they may even have some spare plants going begging. Handily, the serious tomato grower always strikes far more seed than they personally need or could possibly fit in their own gardens.
Once you've made your variety selection the next vital step is site selection and ground prep. You won't be surprised to hear that you will need a sunny, sheltered spot, although in saying that I've had rogue tomatoes come up in every conceivable part of my garden. Some of them have flourished without any human assistance whatsoever. If you want to feel like you're doing things properly though, make sure your spot has good drainage. Add some organic matter to the hole when planting. This should be a balanced compost to promote leaf growth and flower formation. Some tomato sages do not recommend liquid feeding or top-dressing until the fruit starts to set, because ultimately what you want is big fruit, not big leaves. If you can get your hands on some potash this is excellent for promoting flower formation. Staking your plants is clearly important and this should be done when you are planting so as not to disrupt the roots later on. Needless to say you need to water and mulch your plants in preparation for the drought that will inevitably arrive in high summer. As your plants mature keep air circulating around them by cutting off the lower leaves. Try not to get the foliage wet (water at the base of the plant) and if you're of the picking-the-laterals-out school, do so on calm days with little wind (all disease-preventing measures apparently).
At the end of the season when you're all tomatoed out there is one final task: the prospect of seed saving from your most award-winning vines so you can do it all again next year. Thus is the friendly cycle that is home gardening.