Justin Newcombe has some tips on how to personalise that essential extra space in the garden.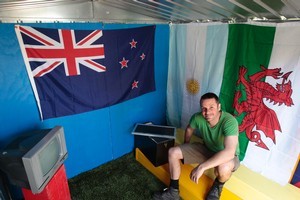 The humble garden shed can be adapted for many purposes. In my circle of friends, people have converted their sheds to anything from a workshop to an office, a home gym, a bedroom for unruly teenagers or a temporary crib while the dream holiday home manifests its self. If you're prepared to be adaptable you can pretty much pimp it any way you want. At this point I should extend a word of caution. Manufacturers of these fine buildings may feel it's a little unfair to alter or add to your shed in a way that they have not recommended and then be responsible for any malfunctions. So do recognise that if you pimp your shed, it may not be covered under warranty, and I suppose that's fair enough too. I'm sitting in my shed as I write this, it's windy and showery with the odd bit of sunshine outside, a typical spring day in Auckland. Inside the shed is warm and quiet now that I have lined it, with the plywood and polystyrene sheeting doing a sterling job of keeping me cosy and dry. As far as I can tell my additions have improved my shed structurally.
Power into the shed is important if you're going to have lighting, watch TV or listen to music: the biggest concern here is safety. Make sure that you use a safety switch on the end of the plug and that all plug connections are out of the weather and water. No point in taking unnecessary risks - get it checked by an electrician to be safe (and covered by insurance).
With all the pool games done and the business end of the Rugby World Cup about to begin, my shed is going to be a weekend retreat for me and my kids. Unfortunately we won't be attending any of the games so I've brought the stadium home by adding a bit of artificial turf and a colourful grandstand. The walls are covered with the flags of all the quarter finalists, as well as Tibet (which, in my opinion, just happens to have the best looking flag).
So, was it worth it? Once the shed was up and lined (which took a day) it only took a couple of hours to deck out. It got the big thumbs up from the kids who wanted to be at a stadium and from my wife who wants her lounge back... so that's a big yes then.
Step 1
Erect the shed as per the manufacturer's instructions. I went for a plain garden-variety tin shed from Bunnings, and it came with good plain English instructions. Read the instructions front to back twice before beginning and don't screw anything together until they say to. A couple of times I found myself unscrewing my handiwork because I jumped the gun.
Step 2
To line the shed, measure the interior (twice is good) and cut the plywood to fit. Glue the plywood to the polystyrene sheets (check at Bunnings that you have the right glue). It's easier to paint the panels before you install them.
Step 3
Starting with the floor, insert the panels into the shed. Fix to the shed with self-tapping metal screws. Remember that if you alter the shed it is not likely to be covered under warranty - although I did in fact screw my panels into the skin of the shed and it hasn't leaked after all this heavy spring rain.
Step 4
If you haven't done so already, paint the walls, floor and ceiling.
Step 5
For my grandstand I made two basic rectangle platforms out of 200 x 50mm timber, a base one 2200 mm long and 700mm deep and an upper one 1500mm long and 350mm deep. Screw on the top of 12mm non-structural plywood with 30mm 6 gram screws. I finished them with some bright paint. You might like to add cushions for a long game-watching session.
Step 6
Roll out the artificial grass on the floor and cut to shape - I haven't nailed or glued mine to the floor but you can put that in if you think it's necessary. Hang up your flags, turn on the telly and start cheering.