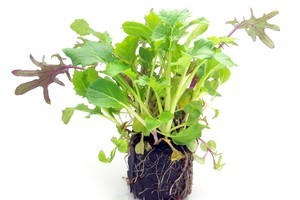 How to grow it:
It might come in bags at the supermarket, but there's nothing easier than growing these salad leaves yourself.
A packet of mesclun salad seed is about the cost of one bag of cut leaves.
If you have it growing fresh in the garden or in a pot on the deck, you don't have to deal with slimy, stinky salad greens past their best in the fridge.
All you need is a sunny spot, with fine, crumbly soil (a little added compost helps).
Then evenly sprinkle the seed. Half a packet will cover around 1sq m.
Sprinkle half a centimetre of fine soil on top (or organic seed raising mix), water gently and in less than two weeks your baby salad greens will be poking up their heads.
At 10-15cm tall, they're ready to start cutting.
In the kitchen:
Italian mesclun is a tangy mix of rocket, mustard and endive leaves perfect for tossing in a quick salad with finely sliced, sweet red onion and crumbled feta.
Drizzle with balsamic and olive oil dressing.