Greig Morgan shows how you can keep the dog safely at home.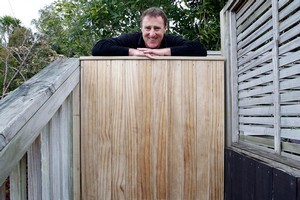 I built steps from our deck to our garden a few years ago as the only access we had was through the house. Last weekend, I finally finished the project by adding a gate to separate the two areas, keep our dog in and deter unwanted entrants. You can design your gate or gates to suit the style of your fence or to stand out as a feature. I made mine to stand out from the handrail. The gate was relatively quick and simple to construct, and looks tidy.
Step 1
Measure the opening where the gate needs to go. Allow a gap of 10mm either side. Also measure the height and allow a 50mm gap at the bottom so the gate to open freely.
Step 2
Mark and cut your four frame pieces with 45 degree angles. Fix the framework together with glue and 75mm screws in each corner. Then measure diagonally between the outside corners to ensure the framework is square. Adjust if necessary.
Step 3
You will need to brace the frame by inserting a diagonal cross piece, from the bottom up to the gate latch. This will ensure the gate doesn't drop when hung. To mark out the brace, place a 75x50mm piece on a flat surface then place the frame on top and cut to fit the inside corners. Fix with glue and screw with 75mm screws.
Step 4
Place and fix your slats (using decking nails) flush with the top and outside of the frame, then trim flush with the bottom. Add a cap, allowing an even overhang front and back, and flush with the ends.
Step 5
Measure down from the top 100mm then up from the bottom 100mm then fix your butt hinge to the side from which you want your gate to open.
Now hang your gate to a post or fixture at the height you want your gate to be. Fix the gate latch and you're done.
Materials
75x50mm H3 dressed gauge pine x5 @ 1 metre (framing & diagonal brace)
100x25mm H3 dressed gauge pine x12 @ 1metre (slats & capping)
Butt hinge 90x60 x2 with 45mm screws
Gate latch with screws
Pack 75x10g screws
Exterior wood glue
Pack 65mm decking nails
Tools
Mitre saw/sharp handsaw/skill saw
Screw gun & screw driver bit
5mm drill bit
Builders' combo square
Tape measure
* Greig Morgan is a cabinetmaker by trade who now runs his own landscaping business, GT Landscapes.