Justin Newcombe brings the garden to the gardeners with a crafty mobile plant station.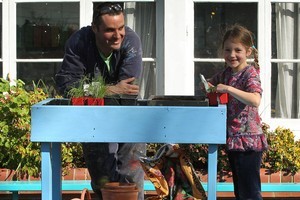 The Habitat for Humanity Build Challenge is on and you can build anything for your local community from toys to a park bench or anything else you can think of. I wanted to build something food-related for the local school and went for a mobile classroom garden. Not all schools have a garden and not all teachers have the time to garden with their students, but considering some of the nutritional statistics, food education needs to play an ever-increasing role in what our schools do for kids and families.
This mobile garden can be packed away at the end of the lesson and it means any students can have a go at handling plants (a surprising amount never have) without having to leave the classroom. Of course, the learning environment is not restricted to the school yard. This would be great for an aged care facility or a cooking school, a health centre or even your local shops.
I adapted the design from one that I saw online, but I made the top of the trolley waterproof so it can be planted.
I'd also advise a couple of small drainage holes in the sides. Perfect as it is for a herb garden, a bigger version can actually be planted up literally like a mobile kitchen garden and the wheeled indoors when you're ready to cook. During construction I was concerned about water deteriorating the timbers and compromising the joints, especially at the mitres, so I glued these using five-minute epoxy. Be prepared, because it really does set in five minutes. The rest is screwed using 63mm screws recessed and glued using Gorilla Glue with coach screws attaching the wheels on the bottom. I wanted to waterproof the top so I could use the bottom as storage. I used Bituproof-plus, which is designed for masonry but works well on timber.
Step 1
Cut 200x 50mm timber to build two rectangular frames. I mitred mine on a 45 degree angle using a drop saw, but you could cut yours straight.
Step 2
Spread the pieces out on a bench, end on end. Tape the back with gaffer tape, glue the joins with a structural waterproof glue (I used Ados 5 min epoxy). Fold up, checking everything is square.
Step 3
Cut the legs and attach using coach bolts. Make sure the bottoms of the legs are flush with the bottom of the bottom frame but are attached only halfway into the top frame.
Step 4
Glue and screw in braces for the upper and lower bench to fit into.
Step 5
Glue and screw in the upper and lower benches then paint the upper one with at least two coats of Bituproof.
Step 6
Attach the wheels with coach screws and finish painting.
Challenge for the community
The Habitat Build Challenge invites people to build something special for a local cause or person in their community. This could be anything - a toy for a nearby children's home, a bench for your local school, even a quilt for a hospice. Ask family and friends to sponsor your build.
To take part or find out more, visit the site above or contact Conrad on (09) 271 3357. Habitat for Humanity Auckland builds and renovates homes for people in housing need across Auckland.