Now is a good time for planting your spring flower beds, advises Meg Liptrot.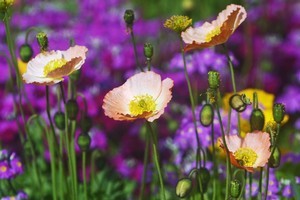 It's funny the things you recall as a child. My earliest memory is of being wheeled around in a pram and looking out at rows of beautiful colours - yellow and pinks and oranges.
My mother thinks it was when she took me to her old workplace, Manukau City Council, which then was based at historic Nathan Homestead in Hill Park, Manurewa. She said the annual beds around the carpark were usually filled with the lively colours of Iceland poppies.
Nathan Homestead, built in 1925, is surrounded by 3.6ha of gardens. Almost 40 years on, I've come to appreciate the humble poppy.
I've become a fan of the "Flanders" or "Soldier" poppy, Papaver rhoeas, whose display is as dramatic as the fields it was named after. The flower is blood red with a black spot on each petal, and is easily recognised as the Anzac Day poppy.
What I love about these flowers is that you plant a little unassuming seedling in the cold depths of winter and forget about it.
The plant steadily gains momentum and puts on thick green growth for the next couple of months, with no flower buds to speak of.
When you've all but given up hope, suddenly, the buds appear and it's all on. If the plant has had it good (with a dressing of sheep pellets, compost and blood and bone), one plant will produce 20 or more flowers at once with more coming on for weeks.
In an edible garden, I like to plant poppies for seasonal interest, and I think the dramatic drifts of Flanders poppies suit being planted near the silvery architectural form of the globe artichoke, under-planted with dark blue lobelia and small white chrysanthemums.
Not to ignore the virtues of the multi-coloured Iceland poppy, Papaver nudicaule, when planted with the right bedfellows, its wide range of colours have a classic appeal. Peachy poppies, purple cabbages and white primula are gorgeous together in the potager vegetable garden. Underplanting with carpet-like white Alyssum has the added bonus of attracting tiny parasitic wasps to help rid the cabbages of whitefly and caterpillars.
The paper-thin petals of this poppy glow like a Chinese lantern in the late-afternoon light. This is the time I enjoy photographing the garden, when the light is low and the colours are amplified. Even cabbage leaves take on a certain charm in this light.
One of the most blowsy, glamorous annuals in the spring garden is the peony poppy, Papaver paeoniflorum. In the warm north, we can't grow true peonies that those in the colder south do, but the peony poppy is a pretty gorgeous plant in its own right.
It grows much taller and sturdier than other poppy species, with a silvery pale foliage, large flower buds and dramatic double peony-like, heavily petalled flowers ranging in colour from white, through pinks to an almost black burgundy.
A nice thing about this poppy is the decorative seed heads left after flowering. Keep these in a dry place then, in autumn, tap the "magic wand" seed heads where you would like your poppies next spring.
Annuals to plant now for spring colour
Whites: Alyssum*; chrysanthemum **; primula; stock***
Blues and purples: Lobelia; phacelia*; catmint**; cornflower; delphinium
Whites, yellows, oranges and pinks: Iceland poppy; oriental poppy
Creamy and bright yellows to orange: Calendula*; nasturtium*
Pinks and burgundies: Peony poppy
True red: "Flanders" or "soldier" poppy
All colours: Aquilegia; sweet pea***; pansy and viola**; lupin*
Note - some of the plants listed can also be found in other colours.
* Excellent interplanted in the vege garden to attract beneficial insects, as pest-repellers (calendula) or nitrogen-fixers (lupin)
** Short-lived perennial
*** Amazing fragrance
Meg Liptrot studied sustainable horticulture and is a garden designer specialising in organic edibles and natives.