Create a cosy haven for your avian visitors. Greig Morgan shows you how.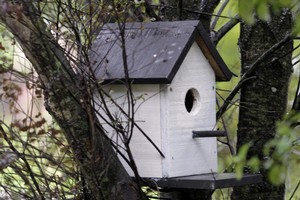 Years ago, I planted a variety of trees for a couple of reasons - one, to enhance our unattractive fence and two, to bring a bit of nature to our once boring garden. Now the trees are established, so too is the bird life (it's good when a plan comes together) and the children love seeing and hearing the birds nesting up in the trees.
About a month ago, we noticed a couple of birds huddled together on the side of our neighbours' house trying to get shelter - boy, they looked uncomfortable. That got me thinking about building a bird house. It would also make a great garden ornament up in the tree, level with our top deck, and well out of predators' reach. The birds wouldn't be too fussy what it looked like, just as long as it was in a safe area, weathertight and with a suitable opening. So I did a sketch, with some measurements, to a design that would be cheap to make.
Step 1
Measure and mark your paling to cut the following pieces: for the floor: one piece 300mm long; the two sides: two pieces at 200mm; and two roof pieces of 250mm each.
Take one of the roof pieces and cut off 20mm along its length.
Step 2
Take the front and back panels and measure 200mm up one side of each. Using the 45-degree angle on your builder's square, draw a line from the 200mm mark to the centre of the panel, then repeat on the opposite side. This creates the gable on which your roof will sit. Cut along your marks.
Step 3
Take your front panel and measure along its base to the centre, then up 140mm to where the birds' entry hole will be.
Make the hole about 50mm wide. Then measure down about 40mm for the perch. Drill a hole using a drill bit to suit the diameter of your piece of dowel, then insert the dowel.
Step 4
Screw your birdhouse together from the bottom up. Attach the back and sides keeping flush with the base, then the front panel. Then screw the front and back to the side panels.
Fix the narrower of the two pieces of roofing, allowing an even overhang front and back. Screw on the second piece of roofing so it sits flush on top of the first piece.
Your birdhouse is now ready to paint, hang in a tree, and be discovered by a pair of feathered friends.
Materials
1 20mm fence paling @ 1.8m long
1piece of dowel 100mm long @ 16mm diameter (for the perch)
1 packet of 35mm stainless screws
Paint
Tools
Mitre saw/Sharp handsaw
Screw gun
Hole saw
Tape measure and pencil
Builders square
Paint brush
* Greig Morgan is a cabinetmaker by trade, who now runs his own landscaping business, GT Landscapes.