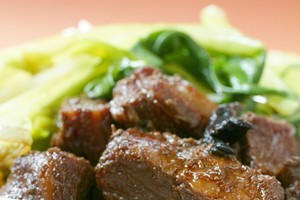 How to grow it: This vege can be grown and harvested right through the year (apart from mid winter), and is a quick and easy member of the brassica family to grow.
Organically feed your soil and dig in compost to improve drainage before planting. At this time of year a cloche tunnel can be used to extend the growing season. I get good results mulching vege gardens with lucerne straw, and watch out for tiny slugs hiding in the leaves.
Only use a pet-safe slug and snail bait (or the old beer and saucer trick). For a description of this and other organic pest control techniques, click here.
How to cook with it: Combine bok choy with basil, chillies and a large piece of lemongrass stem to create a fragrant Thai dish.
Finish with a delicate persimmon purée over vanilla ice cream.