Landscape gardener and Life columnist Justin answers your questions.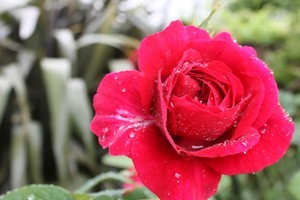 I have been given a little rose in a pot, a variety called Karina. I am useless with plants and don't know how often to water it, nor whether it should be kept as a pot plant or transferred to the garden - which is a whole new problem. What should I do?
- Sue
Growing roses in pots is a great place to start out as you begin to come to grips with the dark art of gardening. It's all pretty much about soil care. Make sure you change the soil in your pot during winter. Because the rose is dormant you don't need to worry too much about damaging the roots (within reason). Remove the plant, trim off a third of the root-ball and replace the soil in the pot with Kings potting mix. Toward the end of winter, feed with Thrive Granular Rose Food from Kings. Soak the pot twice a week during summer and feed more regularly.
We have had problems with our potato crops in the last few years. We live in the very Far North and so can grow almost anything all year round. We have dug in fresh compost, bought compost, blood and bone and potato food and do not plant where we have had tomatoes.
We water well, mound up when required, but we still have lots of tiny potatoes near the top of the soil and nothing deep. We always plant seed potatoes. Can you offer any suggestions please? It's very disappointing to have put in so much effort for very little edible crop.
It sounds like you're doing all you can to get the big spud happening. However, you may need to keep the nitrogen ratios lower. Dial back the compost and improve the drainage with sand and even charcoal (from un-treated timber only please). Kings have a good range of spud specific fertiliser to get you started. Some varieties of potato may also do better in your region than others. Finally, follow a crop rotation and plant your spuds where you've had pumpkins, courgettes or corn. Let me know how you get on and have a good winter.
We have a 2m x 3m garden bed next to our driveway which is clogged with bamboo roots from the neighbour's huge plantation. It is also extremely dry as the bamboo blocks most of the rain. We've tried chopping the roots with an axe (a very, very tough job) and throwing in a few flax plants but would like to plant this up with some hardy natives. What would you recommend for such inhospitable ground?
- Harry and Linda
Bamboo is a very useful plant but is often inappropriate for urban environments, as you seem to be discovering. To eradicate it before you set about planting a new garden is preferable. If it's as bad as your letter reads I suggest getting a digger in and removing and replacing the soil. You need to place a barrier between your property and your neighbour's. There are plastic barriers on the market which keep tree-roots from lifting paths, pools etc and may be tough enough for bamboo. As far as planting natives is concerned, go coastal with muehlenbeckia axillaris (pohuehue), flaxes, astelia and manuka. For some non-native colour try leucadendrons, proteas or kniphofia (poker flowers). If you can't get rid of the bamboo plant, agave attenuata and furcraea bedinghausii will grow, although they aren't native.
I'd like to plant some vietnamese mint to use in cooking. Will it grow in Auckland conditions or does it need a more tropical climate? Does it spread and need containing like regular mint?
Plant your vietnamese mint in a shady, well-sheltered spot as it tends to get woody and nasty in summer. If this happens cut it back and let the fresh shoots come away. It's not as invasive as regular mint and is easy to keep in check with some loppers and a spade. P.S. Have you tried thai basil?
Weekend checklist
* Plant broccoli, cabbage brussels sprouts, radish, beetroot, onions, peas shallots and get those garlic beds ready.
* Feed trees with gypsum, prune and mulch. Make sure to remove all the debris out of the garden, including leaves and anything that may harbour pests over winter.
* Feed citrus with magnesium sulphate and seaweed.
* Spray with Tui Eco-Pest which will control caterpillars, white fly, aphids and blight and protect your perennials against fungus and insects with Tui Eco-Pest and Eco Fungicide; mix with Aquaticus Glow for best results (all available at Kings).
* Plant bulbs and lilies and lift and store dahlia tubers.
* Split landscape flowers like dieties, kniphofia and day lillies.
* Slug-bait around young vegetable plants or leave a sheet of plastic on the ground and check it in the morning.