Follow Janice Marriott's tips and get smashing with late-summer herbs.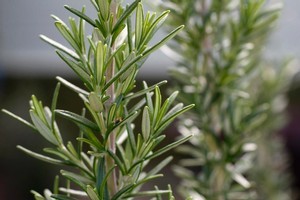 With your slow-cooked roast lamb you could be using lots of rosemary and lemons from the garden.
Easter is the season when we can use up all those aging summer herbs that won't survive the first frosts. A good way to do this is to pesto them. Pesto, which means "pounded" in Italian, can be made with any herbs, not just basil, so get a last harvest from your mint, parsley or coriander and pound them into a pesto.
I'll be making jars of basil pesto from the excellent growing season we've just had. Cut your basil before the frost blackens it and turns it to mush. Remove the woody stems and the flowers that will have developed by now. Chop the leaves up and put them in the food processor with the same amount of parmesan cheese and some pine nuts. Give it a whirl, then add olive oil. It freezes well and you can use it for dips, sauces, or thinned with olive oil for a summery salad dressing.
My favourite lunch at the moment is a dollop of thick pesto on one of the season's last large grilled heritage tomatoes.