It's an oft maligned veg but Justin Newcombe insists that broccoli somehow just tastes better from the garden.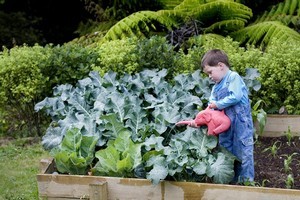 Yuck, yuck, yuck... that's what I used to think before I actually grew some broccoli of my own. Now this isn't some anti-farmer, grow-your-own sermon (double thumbs up and a big yee-haa for the market garden community) but the home-grown product in my experience (and what else is there but one's own experience) is a sweeter, more flavoursome and all together more palatable creature than its market cousin.
I've never been able to work out why that is, until I sat down to write this column and had to think about it. I believe I have the answer, and it's not in how they're grown. What a supermarket is looking for is lots of product, all looking the same, on every shelf, in every store with robust handling qualities and a long shelf life. How a product looks on the shelf is vital to its viability as a commodity, so there's a tendency to avoid lines which perish faster or that have too many variations. Another crop this applies to is the tomato. Look how many varieties you can grow compared to what you can buy. The tomato you grow might be butt ugly and keep for half the time of the commercially grown ones, but you can't beat the freshness and flavour of yours.
The same applies to broccoli. Romanesco is my favourite broccoli because of its ease of growing, its tasty flavour but most of all because of its appearance. I know broccoli is not meant to be ornamental, but it's the beautiful Fibonacci spiral which I can't help but admire as it appears among the foliage. I'm always a little sad to see the empty plants once the head is harvested. Still, it's better to appreciate this handsome vegetable on your plate than let it go to waste by flowering on the plant. Once the little yellow bloom appears it will be poor eating.
In cooler weather the purple sprouting broccoli is a good option. This variety produces little shoots from the main trunk which can be harvested intermittently with the amethyst coloured heads adding distinction to any dinner plate. Broccolini is another small variety which can be harvested over time. In appearance it is not unlike the common varieties sold in stores, however it has a more open presentation and a softer texture when cooked.
Now is the time to get planting. The main point to remember is make sure seedlings are well watered before they go into the ground. Well-nourished plants are far less likely to bolt (go to seed early). Low nitrogen soils are required to avoid massive leaf growth with little in the way of an appetising head. Be aware, though, that despite the size of the edible portions, the plants themselves can be prolific, so allow plenty of space. Be sure to harvest as soon as possible, the younger the better.
After the first harvest leave even the larger varieties in the ground to ensure some smaller stems - these will develop into second tier trophies.
3 of the best: Garden manures
Sheep poo
Convenient and portable with no annoying drips.
Cow poo
The occasional annoying drip, but non-the-less a well-respected soil conditioner.
Chook poo
Widely regarded as poo Everest, the pinnacle of faecal fertilisation.