Justin Newcombe has a pick-me-up for gardeners dogged by the perennial problem of the trailing hose.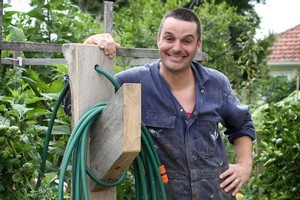 The garden hose can be a real drag, becoming more of a hindrance than a help when it rips out fresh seedlings and catches on chairs, pots or corners you never knew you had. Moving the hose from one part of the garden to another had become an exasperation, and by late spring I was royally fed up with all this hose destruction.
My solution was a hose station positioned permanently at the bottom of the garden. It allows me to leave it looped up neatly, ready to be connected to the house hose when required. I also added a hole at the top to run the hose through. The hole keeps the hose off of the ground as I move around the garden, saving those soft new seedlings from being whipped out of their beds.
If you have areas which are outside house hose range, a hose station can be used as a relay and saves you staggering around with 50 metres of heavy hose every time you want to water.
It turns out the hose station is also a natural magnet for my garden tools. If I can't find my rake or shovel, it's usually leaning against this chunky garden ally and not to be too smart about it, I think it offers a bit of a sculptural angle to a pretty boring problem.
A tangle-free totem.
Step 1
Select a sleeper which is good on both sides. (Get the guys at Bunnings to help as they are heavy - the sleepers not the guys).
Step 2
Square the ends and dress the sleeper using a sander. Mark out two 45-degree angles 200mm apart at the top of the sleeper and cut.
Step 3
Dress the edges of the angled piece using a sander.
Step 4
Position the angled piece of sleeper against the main post to create "hook" for the hose, then using a speed drill bit, drill two 25mm counter sink holes into the hook. Don't drill right through, it's just to countersink the head of the screw.
Step 5
Using a drill bit a size smaller than your screw thread, drill a hole right through to the upright sleeper.
Step 6
Screw the hook to the upright using a socket set.
Step 7
Dig a hole at least 400mm deep and position the sleeper, then pack the soil back in around it. You could use instant concrete but I didn't bother and mine is going nowhere.
Step 8
Drill a hole in the top of the hose station to thread the hose through. File the edges so the hose can travel through the hole unobstructed.
DIY workshops at your local Bunnings Warehouse this weekend:
Saturday:
10am: "Build it" kids DIY workshop
11am: How to mix and lay concrete
1pm: How to build a planter box
Sunday:
10am: "Build it" kids DIY workshop
11am: How to re-pot plants and protect your garden from insects 1pm: How to lay ceramic floor and wall tiles