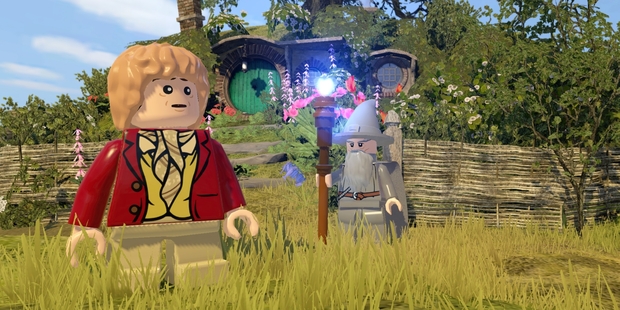 Is there such a thing as too much Lego? If there is, today could mark that breaking point. Not only does The Lego Movie open in cinemas, it coincides with the release of two major Lego games: the child-friendly Lego Movie Videogame, and the more adult-themed The Lego Hobbit.
Both are worthy of your time. Both are decent additions to any gamer's collection. Both revel in the sheer and utter joy of combining movie in-jokes with puzzle-solving, blockbusting, coin-collecting, comically animated fun.
An afternoon may well turn into an evening and then an all-nighter if you're playing with a like-minded buddy, trying to complete every mission in either game. And you won't regret a second of it.
But if you're a parent, and there's a growing pile of Lego pieces in the corner of your lounge being added to so often you need a second mortgage, demands for Lego movie tickets and two more Lego games (there have now been more than 50) could prove to be a tipping point.
No one would blame you for melting every Lego block your children own into a big pile of rainbow goo.
For those already on board the Lego bus this is Lego nirvana. But deciding which of today's releases to invest in will depend entirely on your age - or the age of your kids.
Like the movie it's based on, The Lego Movie Game is designed as an introductory gaming experience for children. The plot follows the movie closely and if you haven't seen it you won't get the cut scenes and in-jokes. So see the movie first.
Players control one of several key movie characters - including Emmett, Benny and Batman - as they work in and around Lego-based environments. The challenges are simple: moving blocks, raising platforms, wreaking havoc with forklifts, helping fellow builders and turning on ghettoblasters for a too-cute dance party.
Because the puzzles are designed for little fingers that grew up solving real world Lego problems, they may prove to be too simplistic for older players.
That's not a problem in Lego The Hobbit, a game that's definitely for those who love Peter Jackson's movies.
While you have to question the timing of its release, it also gets many things right, such as nailing Lego versions of Jackson's sweeping cinematic shots. Or the incredibly detailed beards on the faces of the game's characters.
And they introduce the fire-breathing menace Smaug a mere half hour into the game. That's almost two hours earlier than Jackson managed in The Desolation of Smaug.
Although there's a more serious tone than 2012's Lego Lord of the Rings, The Hobbit's difficulty level feels just about right. You'll never be stuck for long, unlike some of the tougher challenges that gamers faced in Lego Lord of the Rings.
But if you're wondering why There and Back Again content isn't included here, that's because it's rumoured to be released as downloadable content in December. The Lego train just keeps on rolling.
THE LEGO MOVIE GAME

Rating:
PG
LEGO THE HOBBIT

Rating:
PG
- TimeOut