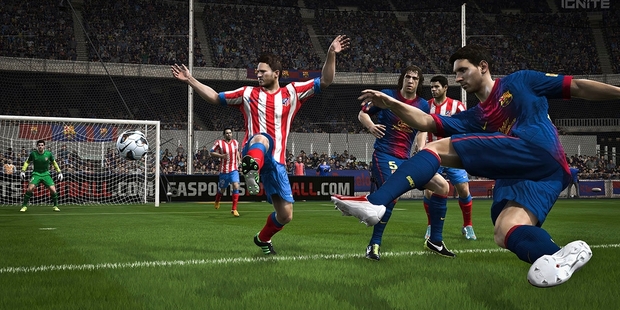 The Fifa series has been among the best sports games at finding the right balance between realistic television coverage-like experience and the pick-up-and-play enjoyment of an arcade game. Fifa 14 takes that realism to the next level without losing the ease of play of previous editions. Players' movements are much more fluid, as is passing, and contact between players is more genuine compared to the bubble-like interaction between players in the past.
The AI has improved, with teammates making better runs into space, ensuring it is easier to make that final pass to put a striker in on goal.
There's much more venom behind shots, making those long-distance rockets from outside the box all the more impressive when you can pull them off. The shooting animation is polished, allowing more realistic efforts on goal, but defenders have also stepped up and will quickly shut down an attack if you dawdle on the ball in the final third.
The extra details in the commentary is a highlight, with relevant facts about clubs and comments about the players' form, their possible retirement plans and even their birthdays peppered throughout the game.
If you're like me and enjoy taking a club from lower-league oblivion to Premier League and European glory in the career mode, you'll appreciate the effort that has gone into the news stories and commentary related to your team's success (or lack of).
Player transfers are more complicated than in previous editions, with ambitious managers having to rely on advice from scouts as overall stats are not available. Aspiring Mourinhos will lap up the detail in this part of the game.
Lovers of the beautiful game will find Fifa 14 an impressive update to the best-selling series.
Stars: 4.5/5
Format: XBox, PS3, Wii, PC
Rating: G