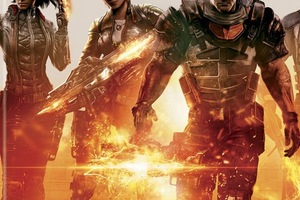 Outrageous weapons, explosive firefights, creative characters and a storyline involving stolen alien energy sources.
On paper, Fuse sounds like it could be a mature, bloodier version of the cartoon chaos of Ratchet & Clank.
And in many ways it is: gamers take control of one of four outlaw agents collectively called Overstrike 9, exploring, swapping characters and engaging enemies to claim rewards as they attempt to gain control of "Fuse" before it falls into enemy hands.
Some of that may sound like a chore but you're not playing Fuse for the storyline.
Like Ratchet & Clank, most of Fuse's fun is to be had in the carnage caused by the game's innovative Xenotech weaponry, and there are endless opportunities to increase your arsenal.
Swapping characters and playing with their weapons can be addictive. In the middle of the first of the game's six missions, the Overstrike 9 crew are pinned down by snipers on a trolley hanging over a chasm.
You can take them out using several methods: Jacob's Arcshot turns opponents into ash, Izzy's shattergun stuns victims, turning them into shards of glass; Naya's impressive Warp Rifle makes several targets implode at once.
Or you could just pick them off by hiding behind Dalton's Magshield and using your trusty old hand cannon. The choice is yours.
Unfortunately, Fuse isn't the addictive riot that it could be. With three team-mates on your side, shoot-outs can become chaotic and wayward, and repetitive killing sprees render your inventive arsenal redundant after a while.
If you're a beginner, re-energising characters who have been killed is laborious and potentially game-ending, especially when they haven't been given enough of a backstory to make you really care for them.
And some missions also lack imagination: One early bore involves swapping energy sources around a power grid to turn on the lights in a facility's lower levels.
But level-ending boss battles with giant robot-alien hybrids sporting flame throwers can be nail-bitingly tense; you can tweak your arsenal with endless options to upgrade and combine, leaving plenty of options for gamers who just want to create carnage, and there are multi-player and online options available.
Perhaps there might just be enough here to attract grown-up kids who haven't yet had their fill of Ratchet & Clank-style action.
Stars: 3/5
Platform: PS3
Rated: MA15+
- TimeOut