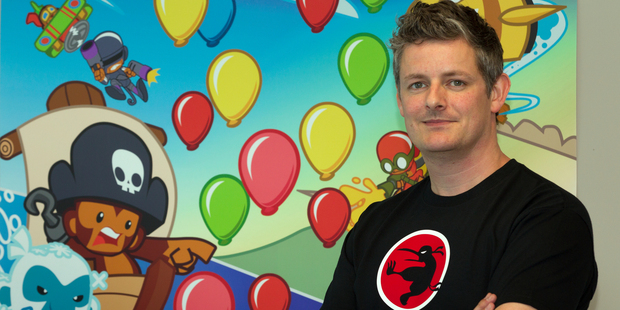 Claims of a 'gold rush' going on in the mobile gaming space right now are entirely accurate, says the founder of game development company Ninja Kiwi.
Chris Harris said there were currently "huge opportunities" for individuals and companies looking to create games for people to play on smartphones.
"People are saying that using terms like 'wild west' and 'gold rush' aren't accurate - I really think they are. The rules are still being written," Harris said.
"The amount of money out there is practically infinite. There are companies making money that would make your eyes water."
Ninja Kiwi, which Harris co-founded with brother Stephen in 2006, has grown to a team of about 40 people working from offices in Kumeu, Auckland and Dundee, Scotland.
It gets 70 per cent of its revenue from users of Apple iOS and Android devices.
The company made about $5 million in the last financial year, with the help of hits like Bloons Tower Defence 5, which soared in its first week to No2 in the iTunes App Store in the US.
Speaking today at the Technology Innovation Week conference in Auckland, Harris said the brothers had experienced "a pretty wild and successful ride".
He said the games industry in New Zealand was starting to get some real traction.
The biggest opportunities were in developing mobile-social games, those which could be played via social media sites and smartphone.
Harris pointed to the success of Candy Crush, published by King.com, which had more than 15 million daily users through mobile and Facebook.
Rather than through subscriptions, the best money-generating model was a game people could play for free but in which they paid small amounts to get extra features.
"I think the biggest success stories so far in mobile games have been free games with paying for extra lives or whatever," he said.
"For people who don't want to pay money you can advertise to them."
Others who spoke today at Technology Innovation Week 2013 included Stefan Preston, owner of investment company and consultancy Ingenio, and Ken Erskine, a director of ICE Angels.
Organised by New Zealand Information & Communications Technology, the conference runs through to the end of this week.