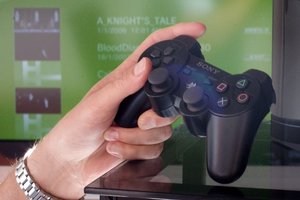 As the console wars continue to run at their usual breakneck pace, rumours are flying that Sony's soon to be announced console and the next Xbox will both refuse to play nice with second hand games. Should these rumours prove to be true, it would appear that both Sony and Microsoft are planning to release content protection systems that could all but render second hand games unplayable.
Sony filed a Patent (US20130007892) in September which is understood to still be awaiting approval from the US Patent Office. If approved, shutting down the second hand games market makes a lot of sense for Sony and game publishers, both of whom most likely see second hand game sales as a major source of lost revenues.
Under Sony's patent, each games disc will have an embedded RFID chip (much like what is used by clothing stores to deter shoplifting) which would wirelessly communicate with the games console. This would see game discs storing information about which console they've been wireless paired with, rendering them unplayable on other consoles.
Under this new regime, second hand games would quickly become useful only as drink coasters.
Alternatively the technology could also see the console requesting a fee to unlock the game, or even specific portions of the content (for a free trial for instance). Another side benefit of this system for Sony is that it the technology would also make games extremely difficult to copy as pirates would have to get hold of RFID embedded optical discs.
The rumour mill is also starting to go into overdrive around the next Xbox, and it looks like Microsoft's next version of the Xbox console could also have it in for second hand games. Where Sony have opted for proprietary media, the rumour mill has it that Microsoft appear to be adopting the simpler (but secure) method of requiring an internet connection and activation codes for games that are said to be on 50GB-capacity Blu-ray discs. Based on this it appears that second hand games will not be playable.
If this all sounds a bit too draconian, remember that much of this is still highly speculative. Xbox rumours are at best just that, vague rumours and although Sony may have filed a patent, they have yet to implement it, and are likely to be extremely wary of any consumer backlash. Thankfully the PlayStation3 doesn't incorporate any RFID capabilities so if Sony are to execute their patent, it'd most likely be baked into the soon to be announced PlayStation 4. It is also probable that game publishers would also be given the ability able to choose to implement the technology on their game titles.
Either way, if the RFID or online verification system is implemented, knock on effects are a given. With the relatively high cost of new games in the New Zealand market, the lack of cheaper second hand games could act to stop people from adopting any new console incorporating the technology. Additionally, although many gamers will happily fork out the $100+ cost for a new game title, they often do so with the knowledge that they can make some of the money back from selling the used game title. That this money is often also used to buy new games is also a key consideration.
Then there's the social aspect of console gaming, taking a game title and a controller over to a mate's place to kick their butt in a full on frag-fest is commonplace now, but could get a whole lot trickier in the future. In a nutshell, social gaming could soon require users lug their consoles with them or stick to online multi-player titles.
Should Nintendo (or another player) decide not to adopt similar anti second hand game/anti-counterfeiting technologies, it is possible that both Sony and Microsoft could also find themselves losing market share to Nintendo or other new entrants.