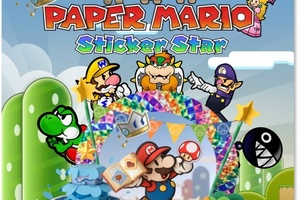 "As much as possible, complete it with only characters from the Super Mario world ... it's fine without a story, so do we really need one?" These comments, attributed to Mario series creator Shigeru Miyamoto, say more about Paper Mario: Sticker Star than any review ever could. To see these two aspects pushed aside by the father of Mario is disheartening and really affects the way this latest adventure plays.
What little story exists is reminiscent of the Nintendo platformers. A sticker comet lands in Decalburg during a sticker festival, and Bowser - intent as always on ruining everyone's fun - decides he wants the sticker comet all for himself. Upon touching it, the sticker comet vibrates, lifts off, and explodes, leaving Decalburg's festival destroyed and pieces of the comet scattered around the world map. After being introduced to a hovering crown sticker that needs your help to find the pieces, it's up to Mario to search for the missing chunks of comet.
The turn-based combat has made a return, and you have a collection of stickers at your disposal. Each sticker represents a move or attack that Mario can pull off, including head-stomping, and the ability to throw ice or fire balls.
During his adventure Mario will collect items that just don't fit in his 2D world, and by turning them into stickers, they can be used either in or out of battle. This becomes an issue when you've completed every level prior to the one you're on and the sticker you need is not in your possession. With no clue as to where the item is, you must either to go through every single level again, or look at an online guide. This is a major flaw that should have been covered in game design 101.
It doesn't stop there. One level requires you to jump to activate an invisible block to progress. There are no signs to let you know you need to do this and the block isn't shimmery invisible, it's "in-absolutely-every-way-possible" invisible. The solution is obscure and illogical.
Sticker Star is still playable and offers around 20 hours of gameplay, and Intelligent Systems have clearly put a lot of love into the presentation. The 3D effect is used perfectly and the quirkiness of the game will make fans wish they weren't having a watered-down experience. Though it's normal these days to have a weaker version of a console game on a handheld, it's unacceptable when this is likely to be the only Paper Mario game for the next three years.
Stars: 3.5/5
Platform: Nintendo 3DS
Rated: G