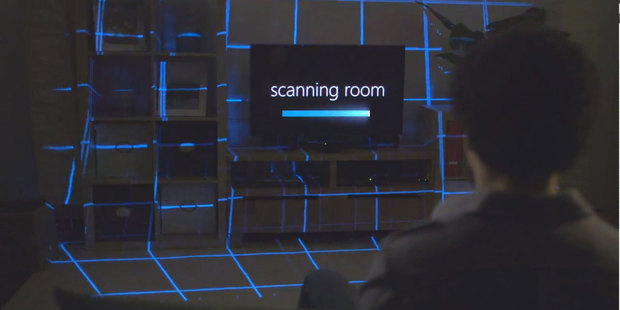 Sometimes a crazy yet utterly cool concept comes along that completely takes my breath away. This time it's a Microsoft creation that has blown my mind.
Called IllumiRoom, the idea was showcased as a proof-of-concept from Microsoft Research. As something so intrinsically visual it is hard to fully capture the nuances of IllumiRoom into words except to say that It is like augmented reality on steroids and will make gaming on an Xbox a mind melting experience.
Put simply, IllumiRoom technology works by extending what is on the screen of the TV when gaming with an Xbox across surfaces of the room. In practice, the effect is electrifying as it uses the gamers peripheral vision and injects other visual cues into the gaming experience to give a real feeling of motion and immersion.
IllumiRoom makes clever use of a Kinect camera to map the 3D geometry of the room which in turn is factored into some pretty advanced video processing before being projected onto the rest of the room.
A picture may paint a thousand words but as it is way harder for words to convey such stunning concept in action, check out this video of IllumiRoom in action.
The effects are all live and not pre-processed as part of game code. This should in theory mean that any game title could work with IllumiRoom technology. The only real downside of this approach is that projectors can be costly wee beasts and gaming with the curtains closed and lights off is a likely requirement for the full effect to be realised.
Either way I hope IllumiRoom gets past proof of concept to market real soon, I can't wait.